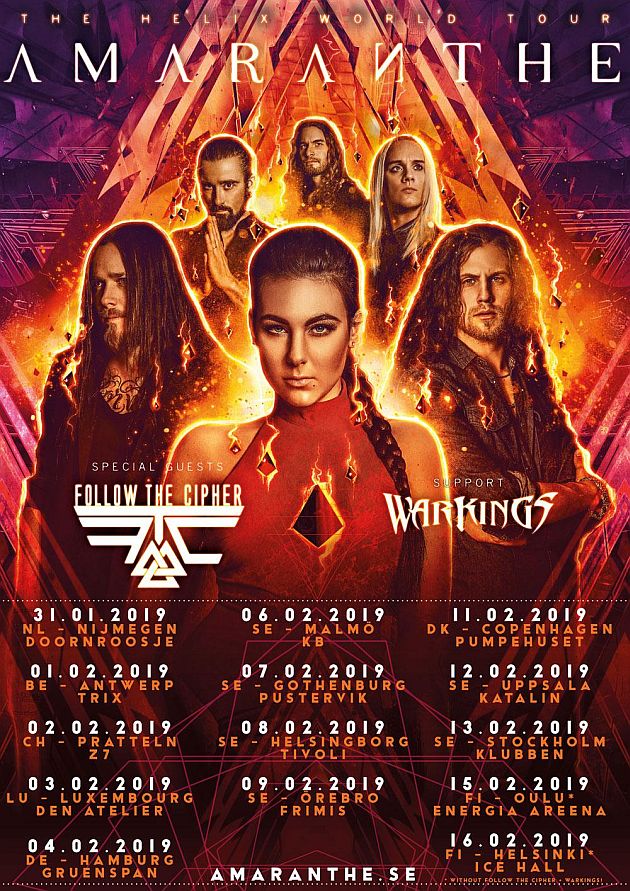 Den Atelier, Luxembourg City, Luxembourg
3rd February 2019
Amaranthe, Follow The Cipher, Warkings

These are the voyages of the visionary band AMARANTHE. Their ultimate mission: to explore the opaque realms between Extreme Metal and electronic tunes, to pioneer the invention of new approaches of joining two traditionally contradicting musical worlds, to boldly go where no Metal band has gone before. Evolution requires visionaries. One of the biggest bangs of the modern metal universe happened in the fall of 2008.
One of the hardest working bands in the genre, the band released their 4th album, 'Maximalism', already in October 2016. The album charted everywhere, taking home another #1 position on the Billboard Heatseekers, a Top 100 Billboard & chart position #3 in Finland. Four albums into their career, AMARANTHE have racked up north of 118 million YouTube views, half a billion song streams, are the three-time holder of Billboard Heatseekers Chart #1 position and possess a panoply of Gold discs for albums and singles alike.
With their electrifying 5th album, 'Helix', released in October 2018, AMARANTHE take another leap in their sonic evolution. Their most focused work to date, 'Helix' proves the band has refined their melodic sensibilities ever further whilst retaining their cutting-edge metal assault as massively aggressive as ever. From the 365's seductively velvety mix of contemporary sounds and modern Metal to the driving grooves of 'Countdown' and 'Breakthrough Starshot'; the heart-rending honesty of the emotive ballad 'Unified' to the flawlessly flowing raps of 'Dream' and 'GG6''s blistering Extreme Metal throw-down, every song on 'Helix' is a potential hit. Once again a quantum leap ahead of their peers, AMARANTHE aces everything they do.
Now, armed with an album with unprecedented crossover potential, AMARANTHE is ready to tear down the walls of musical separation. Get ready for a sonic revolution!
Additional Concert Info

Doors: 19:00
Start: 19:30
Information & Tickets: https://www.atelier.lu/Upcoming-Shows/Amaranthe
Facebook Event: https://www.facebook.com/events/702576016787983/
More on
Amaranthe
,
Follow The Cipher
,
Warkings
See also (all categories):