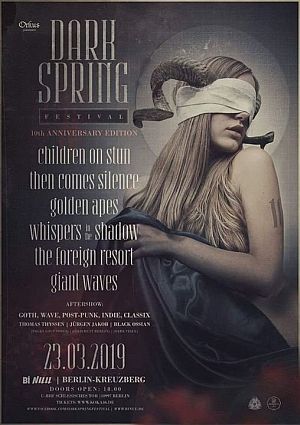 BiNuu Club, Berlin, Germany
23rd March 2019
Dark Spring Festival 2019 with Children On Stun (UK), Then Comes Silence (Sweden), Golden Apes (Germany), Whispers In The Shadow (Austria), The Foreign Resort (Denmark), and Giant Waves (Russia)

Berlin is the place to be this March, as the annual DARK SPRING FESTIVAL once again unveils an exciting and eclectic line-up. Now in its tenth year, there's always a vibrancy at work during these gatherings, a sense of camaraderie that extends way beyond the music, and is clear in the care and attention to detail, from the atmosphere and professionalism on the night right down to the always superb artwork to promote the event. This year sees a mouth-watering line-up, and is sure to sell out so get your tickets early…
Representing the UK, CHILDREN ON STUN will headline - their classic gothic rock still sounding as fresh and relevant today as it did back in the early 90's when the band formed. THEN COMES SILENCE, from Stockholm, have been quietly but rapidly raising their profile, their assured and powerful dark rock a welcome addition to the festival. Local boys and festival organisers GOLDEN APES continue their traditional appearance at Dark Spring, and it's hard to not be touched by their brooding, complex and intelligent music.
If you like your guitar-bands epic, occult-tinged and hugely dramatic, then Austria's WHISPERS IN THE SHADOW are definitely for you, and Denmark's THE FOREIGN RESORT are sure to get the crowd moving with their infectious mix of dark new-wave and post-punk. And opening the event will be GIANT WAVES, from Russia, a pitch-black heady swirl of gothic and cold-wave. And for those who want more, there's an after-show playing goth, wave, post-punk, indie and all the classics with DJ's Thomas Thyssen, Jurgen Jacob and Black Ossian.
As always, DARK SPRING FESTIVAL is absolutely not to be missed!
Tickets via www.apes.1a-shops.eu / www.koka36.de
Further Information via www.facebook.com/darkspringfestival / www.binuu.de
Facebook Event: https://www.facebook.com/events/188240985288726/