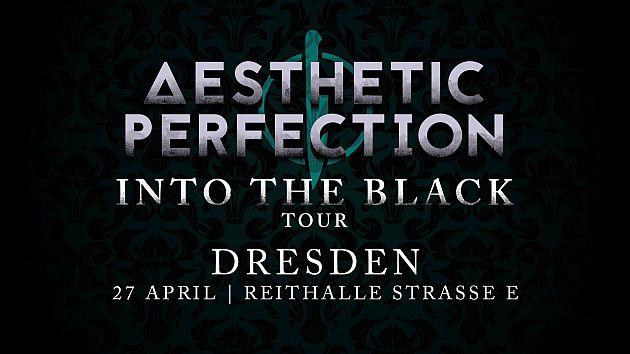 Reithalle Strasse E, Dresden, Germany
27 April 2019
Aesthetic Perfection - "Into The Black" Tour 2019 - Special Guest: Priest & Amelia Arsenic

AESTHETIC PERFECTION (Industrial pop) will be promoting their recent release, 'Into the Black', that was out on 29th of March 2019. Special guests will be PRIEST and AMELIA ARSENIC. AESTHETIC PERFECTION beginnings date back to 2000. The name of the project has nothing to do with music; the leader of the project - Daniel Graves - when asked about it, said that this was a kind of reflection on Hollywood, where he comes from and where he created his band.
"In Hollywood, everything is heading towards a false aesthetic perfection... you know: film stars, plastic surgery and generally untrue people. The name of the group reflects that, I thought it was appropriate for formation." However, it had been more than five years since the founding of the band to release their debut album, entitled 'Close to Human'. Nevertheless, the group gradually built up its reputation on the alternative music market and all their later released albums appeared on the outlays of large music labels, such as Out of Line Records in Europe or Metropolis Records in the United States.
Throughout the entire existence, the band performs extensively. They took part in joint tours with various stars of the alternative scene, such as COMBICHRIST in Europe and the United States in 2009, or in 2016 with the Swedish COVENANT. The band is also a frequent guest of the largest music festivals with Dark Independent music such as Wave Gotik Treffen, Amphi Festival, M'era Luna, Blackfield Festival and Kinetik Festival. In addition to his activities at AESTHETIC PERFECTION, Daniel Graves also recorded in his second project - NECESSARY RESPONSE - creating more in Future Pop line. As the artist says, the songs of this project were made of tracks that he wrote, but they do not really match the music line presented by AESTHETIC PERFECTION. This project was suspended in 2009, and finally resolved in 2014, because it was difficult for the artist to get involved in two large projects at the same time. As a result, all subsequent recordings were created only under AESTHETIC PERFECTION, whose work has evolved in the direction of Future Pop music.
Additional Concert Info

Doors: 19.00
Start: 20:00
Tickets: are available for EUR 25.50 via
Eventim
More Info: https://www.pluswelt.com/aesthetic-perfection / http://aesthetic-perfection.net
More on
Aesthetic Perfection
,
Priest
&
Amelia Arsenic