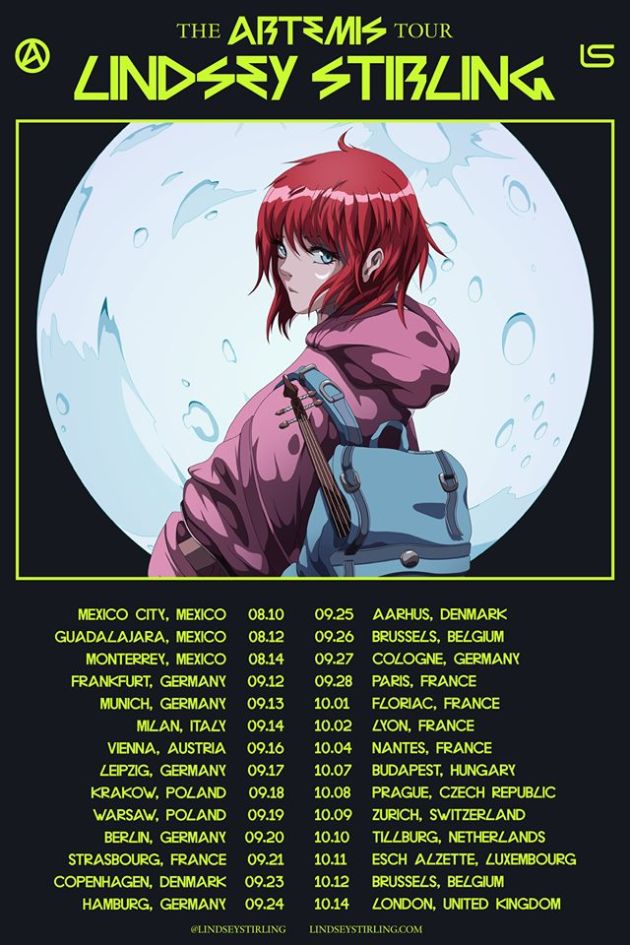 Rockhal, Esch sur Alzette, Luxembourg
11th October 2019
Lindsey Stirling - Artemis World Tour

Musically she can't be put in a pigeonhole: star violinist LINDSEY STIRLING. Now the 32-year-old is going on a world tour with her new album 'Artemis'. LINDSEY STIRLING combined classical violin music with modern pop sounds in an ingenious way. Her style has become extremely popular and she is now one of the most successful musicians of the early 2010s. In addition to selling millions of records, she also won the prestigious YouTube Video Award.
The multi-faceted musician, dancer and songwriter began playing the violin at the age of five. She developed quickly and became one of the best violinists in the world. In 2010, at the age of 23, she took part in 'America's Got Talent' and began performing her dance violin shows. Although she didn't make it to the finals, she continued to perfect her distinctive style.
On her album 'Brave Enough' she celebrates her musical flair and diversity and translates intense events from her life into her songwriting. Despite her young age, her skills and experience are evident in her music. She survived many strokes of fate in her life, but never gave up and continued to follow her dreams. Now she is ready to share the great result with the world: "I want people to feel as if they are brave enough to do the things they want to do," explains Lindsey. "Everyone has hopes and dreams. Teach yourself to have the courage that you may not have at that moment. This record is the proof that it is possible."
Her fifth studio album 'Artemis' was released on the 6th September 2019. Artemis in the ancient Greek religion and myth, is the goddess of the hunt, the wilderness, wild animals, the Moon, and chastity. And exactly that subject the young British violinist wants to cover. It's about the battle between light and shadow.
Additional Concert Info

Doors: 19:00
Start: 20:00
Tickets & Info: 37€ + 3.7€ presale fee via https://www.rockhal.lu/de/agenda/other/show/detail/lindsey-stirling-4/
Facebook Event: https://www.facebook.com/events/525025381359909/