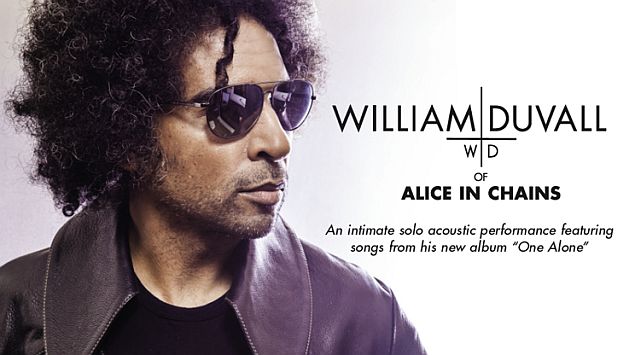 A voice, a guitar, a legend - ALICE IN CHAINS singer on solo tour! Normally, William DuVall is known for being guitarist and singer of the band ALICE IN CHAINS, but he now presents his solo debut album 'One Alone', for which he comes to Germany for three club shows. On April 7, 2020, there is a show at the Club Volta in Cologne, followed by a gig at the Privatclub in Berlin on April 19, and the third one is held at the Nochtspeicher Hamburg on April 20, 2020. Get your ticket now to experience the US American with that striking voice and his acoustic guitar.
William DuVall looks back on an eventful career. In the early 80s, the musician born in Washington was part of different Hardcore bands. During his time in Atlanta, he founded Neon Christ in 1983, wrote lyrics and played the guitars. Shortly thereafter, he moved to Los Angeles, and for a short time, he became member of the legendary Californian band BL'AST. In 1987, he founded THE FINAL OFFERING. At the end of the 80s, he graduated in philosophy at the Georgia State University. Ten years later, he toured with COMES WITH THE FALL, and released their albums and EPs via his own label DVL Recordings.
Although there was no major, commercial breakthrough for DuVall, his own sound created a big fan base, and other musicians appreciate him. In 2006, a new phase of life started. There was just one single rehearsal, where William sung the song 'Love, Hate, Love', and ALICE IN CHAINS said yes. Since then, he and Jerry Cantrell share vocals and guitars at the studio and live on stage. The band tours excessively, and brings three albums on the market.
However, despite all that success with ALICE IN CHAINS, there was one thing missing in the personal record of DuVall - a solo album. That long-desired dream has come true now. His solo debut 'One Alone' shows a very different side of DuVall. There are no hard riffs and rhythms. All that's left is the vocals and an acoustic guitar to perform eleven songs about life; interpreted by a touching voice. In spring 2020, William DuVall goes on tour. From April 7 to April 20, for the first time he will share these private moments with the audience in Cologne, Berlin, and Hamburg.
Live Nation Presents William DuVall - An intimate solo acoustic performance featuring songs from his new album "One Alone"
Tue April 7, 20 – Cologne / Club Volta
Sun April 19, 20 – Berlin / Privatclub
Mon April 20, 20 – Hamburg / Nochtspeicher
General ticket presale: www.livenation.de/artist/william-duvall-tickets / www.ticketmaster.de / www.eventim.de
www.williamduvall.com / www.facebook.com/williamduvallmusic