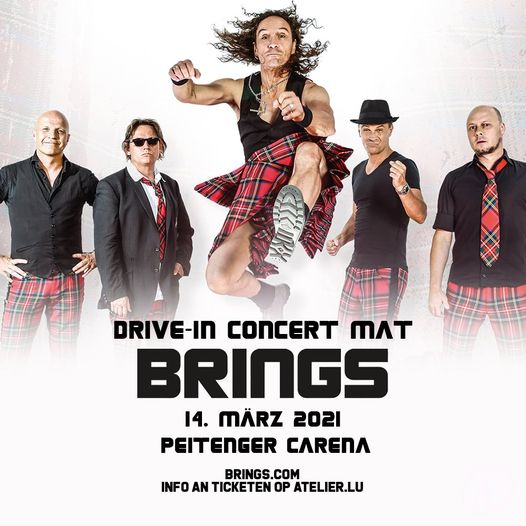 Péitenger CARena, Pétange, Luxembourg
14th March 2021
Brings - Drive-In-Concert

Already in summer, the Den Atelier organised some open-air concerts together with the municipality of Pétange. Besides local bands like MAD FOX and DEPPEGÉISSER, bigger musicians like TIM BENDZKO and GENTLEMAN also visited the CARena. And because it was so nice in the summer to hear cars honking and generally feel a bit of normality, the Atelier is now organising a drive-in concert again. This time for a visit in Pétange: BRINGS.
BRINGS are a band from Germany which perform most songs in the local dialect of Cologne, Kölsch. Founded in 1990, they established themselves playing rock music; their lyrics are performed in Kölsch and, since 1995, also in standard German. After the successful single 'Superjeilezick' (2001) they specialized in Cologne party hits.
The band founded by brothers Peter and Stephan Brings has experienced pretty much all the ups and downs a musician can experience in the past two decades. At the end of the 1990s, the band with the famous fathers (besides Rolly Brings, these are singing legend Tommy Engel and politician Norbert Blüm) had their best years supposedly behind them. Then in 2000, with 'Superjeilezick', they achieved what can easily be described as winning the lottery. This brilliant Power Polka has become better known with each passing year and is now one of the most popular songs in the Cologne dialect, far beyond the Carnival. Thanks to 'Superjeilezick', doors opened for BRINGS in the carnival stronghold of Cologne. A new era began for the band, including an all-round successful image change.
Additional Concert Info
Doors: 17:00
Start: 19:00
Tickets: 75€ per vehicle (not per person)
Info & Tickets: https://www.atelier.lu/shows/brings/