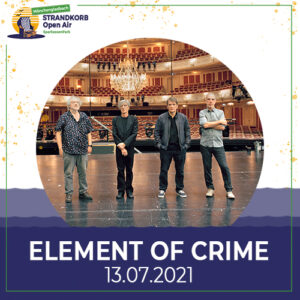 SparkassenPark, Mönchengladbach, Germany
13th of July 2021
Element Of Crime - Strandkorb Open Air

This Summer starts the second season of concerts in the SparkassenPark in Mönchengladbach. At this extraordinary location the audience can listen to the artists from their beach chairs. 450 of them are placed at a certain distance to ensure that the hygiene rules to contain the pandemic are compiled and concerts are also possible in these times.
On the 13th of July, the German band ELEMENT OF CRIME will enter the stage in Möchengladbach. ELEMENT OF CRIME was formed in the year 1985. With the calm but sonorous voice of singer Sven Regener and their melodic Rock sounding like French chanson with German lyrics, ELEMENT OF CRIME makes the perfect music for lovers. But the profound lyrics also stimulate to think about the world. After the come and go of different musicians, the band now consists of the founders Sven Regener (guitar, trumpet and piano) and Jakob Ilja (guitar), David Young (bass-guitar) and drummer Richard Pappik. See and hear a pearl of German music on the 13th of July 2021.
Additional Concert Info

Doors: 18:30
Start: 20:00
Tickets: grandstand: 51.20 € / Beach Chair: 54.50 € via https://www.ticketmaster.de &
http://bit.ly/Eventim_tickets
Info & FAQ: https://sparkassenpark.de/faq-strandkorb/
Address: Am Hockeypark 1, 41179 Mönchengladbach
When parking, please note the additional information on your ticket and the guidance systems.
See also (all categories):