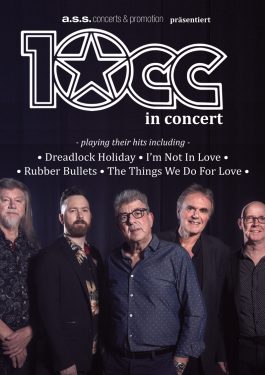 Lichtburg, Essen, Germany
8th November 2021
10cc in Concert & Support: Jasper Erkens

Individual, inventive, and both commercially and critically successful, 10CC are one of the most influential and long-lived bands in Pop history. This testifies to the quality of their timeless songs. Who doesn't know the radio favourites like 'Dreadlock Holiday' - used in 2010 in the soundtrack of the Facebook film 'The Social Network' - and 'I'm Not In Love', which appears in the 2014 blockbuster 'Guardians of the Galaxy'.
10CC has sold more than 30 million albums worldwide. The band continues touring all over the world, including Iceland and New Zealand. The founding and leading member of the formation is Graham Gouldman, whose status as one of the most important songwriters is undisputed - recently confirmed by his induction into America's Songwriter's Hall of Fame in New York. He wrote hits for bands like THE HOLLIES and THE YARDBIRDS. In the 70s, when the charts were dominated by perhaps the most creative and colourful Pop stars in Pop history, DAVID BOWIE, QUEEN, ELTON JOHN or ROD STEWART, 10CC weren't so much focused on the celebrity image, but focused their energy on production highly demanding Rock songs.
All band members had different influences back then, says Gouldman. "I was impressed by the likes of Burt Bacharach and Hal David, Jimmy Webb, Eddie Cochran, Buddy Holly and the Everly Brothers. Eric Stewart was the Rock'n'Roll, blues, and R&B type, while Kevin Godley and Lol Creme were more of the artistic and avant-garde acts, including Jacques Brel. And that was what constituted 10CC: what happened when we brought all these influences together ". With 'Donna' 10CC had a surprising breakthrough in 1972 and reached number 2 in the UK charts. All four band members sang, played instruments and produced, so that no one had an exposed role within the band. "The combination of the four of us in the creative process made all the difference," says Gouldman. 10CC didn't need an external producer either. Her 1975 album 'The Original Soundtrack' was widely accepted by audiences and the media.
After the album 'How dare you' Godley and Creme separated from the quartet. All band members had very successful careers. Gouldman and Stewart continued to give 10CC great success, producing 10CC albums until the 90s. In 2006 Universal released a "best of" album and in 2012 for the 40th anniversary a 5-CD box with 80 tracks curated by the original band members. Although Graham Gouldman has been pursuing other projects since the 80s, he says that the current formation of the band 10CC (two other members have been with the band since the 70s) is becoming more popular year after year. That is wonderful, because the band love touring and are happy to address a cross-generational audience today, not just the fans from back then.
You should definitely not miss a live show of this special band!
Additional Concert Info

Doors: tba.
Start: 20:00
Tickets can be ordered from 44.70 euros via
Eventim
Info: https://www.assconcerts.com/artists-details/id-10cc.html / https://filmspiegel-essen.de/veranstaltungen/10cc-28-04-2020/