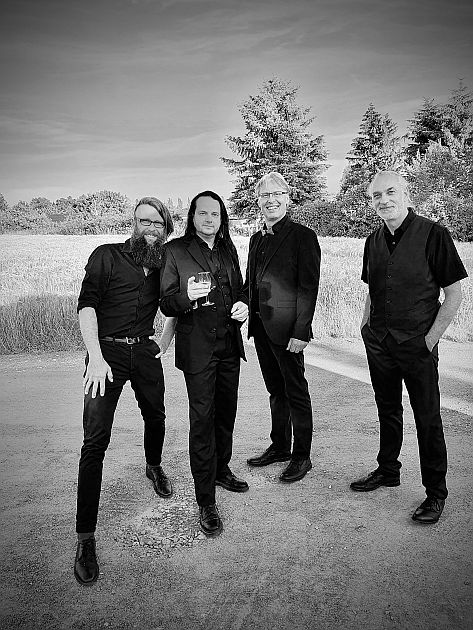 Wabe, Berlin, Germany
27th November 2021
Goethes Erben - Kammerkonzert "Flüchtige Küsse"

GOETHES ERBEN are a real legend of the German Gothic and Alternative Music scene. Founded more than 25 years ago by Oswald Henke and Peter Seipt, their music, above all the voice of Oswald, has been an unmistakable part of the Gothic subculture with their sometimes dark, sometimes melancholic, sometimes ironic and often political songs. Peter Seipt left the band shortly after their genesis. After different changes of members, the band consists now of Oswald Henke (vocals), Tom Rödel (guitar), Tobias Schäfer (keyboard, piano) and Markus Köstner (drums, percussion).
GOETHES ERBEN have had a long break without publishing a new album - then, in 2018 and 2020, two new albums came out. It is the latest one, 'Flüchtige Küsse', they have presented in the big "X" tour which just ended and offered a spectacular light show and special effects and even a dancer (
Just check out the review
).
Now, GOETHES ERBEN are going to present their newest album on this concert, which is a "chamber concert". That means, GOETHES ERBEN will offer a completely different version of their music, quieter, with a smaller ensemble and with a grand piano instead of a keyboard. So, even if you already attended the concert of the "X" tour, don't miss this event!
Additional Concert Info

Start: 20:00
Ticket Fee: 32 Euro
Tickets can be ordered at https://www.wabe-berlin.info/nov-2021/27
Info: https://www.wabe-berlin.info/nov-2021/27/
Facebook Event: https://www.facebook.com/events/724826565040815