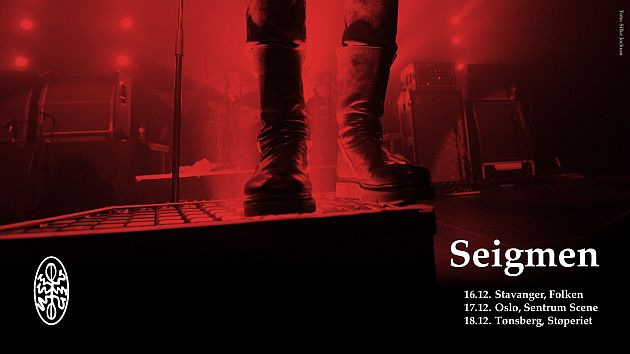 Attention: due to health issues, the tour in December 2021 is cancelled. There are new dates in May, August and December. Please check the band's website. Tickets remain valid.
There was definitely something missing in December 2020 - like almost everything else - also the by now traditional SEIGMEN December tour could not happen in 2020. But, almost unexpectedly, SEIGMEN just announced a small tour through southern Norway just before Christmas 2021 visiting Stavanger, Oslo and of course their hometown Tønsberg on this leg. Just a few days later Norway surprisingly re-opened and what we now call "normal" shows are possible again.
On the last tour in December 2019 the Norwegian Rock legends SEIGMEN surprised their fans with a special, chronologically built-up setlist including some songs that rarely ever have been played before like the epic 'Rosa Boots' which just hit 30 years back then. We don't know how the band will surprise us this time but they will definitely do and find something in their extended discography to make even the most dedicated fan super happy. But of course, there will for sure also be enough space for the classics. But beside that a SEIGMEN concert is always like a dark celebration - mystical, energetical, emotional, but at the same time very personal and engaging. It's gonna be a real blast for the fans and the band itself to hit the stage after a two year long break again!
The special guest on this tour in all three cities will be CHRISTINA SANDSENGEN. She started playing guitar at the age of 15 and underwent training as a classical guitarist at the Norwegian Academy of Music, Superior de Música "Manuell Castillo" music conservatory in Spain and with Gérard Abiton in Paris. Her talent, engagement and composing are outstanding and she will for sure take care to enchant the audience from the beginning. An exciting act that will support SEIGMEN on their December tour 2021.
Tour Dates

16.12.2019 Stavanger, Folken
17.12.2019 Oslo, Sentrum Scene
18.12.2019 Tønsberg, Støperiet
Tickets are now available at

Stavanger: https://bit.ly/seigmen_stavanger
Oslo: https://bit.ly/seigmen_oslo
Tønsberg: https://bit.ly/seigmen_tonsberg
Artists: https://www.facebook.com/Seigmen / https://www.facebook.com/ChristinaSandsengenOfficial
See also (all categories):