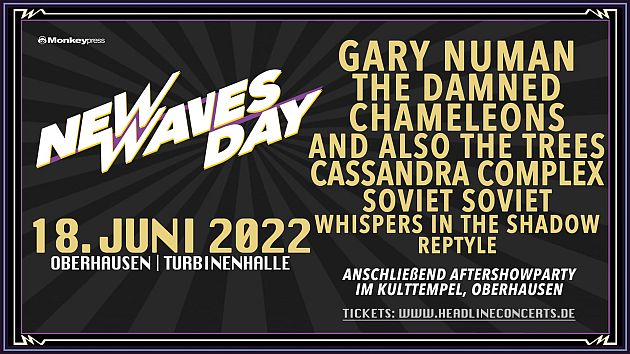 Turbinenhalle, Oberhausen, Germany
18th June 2022
New Waves Day 2022 with Gary Numan (UK), The Damned (UK), Chameleons (UK), And Also The Trees (UK), Cassandra Complex (UK), Soviet Soviet (Italy), Whispers In The Shadow (Austria) and Reptyle (Germany)

It's difficult to find positives from the chaos and misery of the last two years, but the feeling that somehow we would pull through it allowed a certain amount of sanity to remain intact. It has become almost comical to live in a "will it or won't it happen" musical universe - but here we are.
Perhaps now the uncertainty is slowly becoming more a need simply for flexibility, the feeling that things will go ahead but we may have to adapt here and there to make them work. Whatever is ahead, it is hugely satisfying to see so many shows and events and festivals stubbornly shaking off the dust and picking up where they left off. And so it goes with the fabulous NEW WAVES DAY festival in Germany, with a line-up that is bold and hugely enticing. This is a particularly eclectic mix of bands and artists, and to have them all in one place on one day is a real parade of happy defiance.
The UK is well represented this year, with GARY NUMAN headlining. He will certainly bring the usual intensity and energy to the stage with a mix of his more recent gothic and industrial guitar-based songs and the synth-era classics that cemented his place as a global superstar back in the 80s. THE DAMNED and CHAMELEONS represent two ends of the spectrum with the former not only inventing and then shaping the original Punk scene in England but then moving forwards and evolving through it, to the latter, who came to define the label of Post-Punk with their emotive, political, intelligent and occasionally savage guitar-driven song-writing.
AND ALSO THE TREES continue to shimmer and shine with their mystical, pastoral swirl of poetry and soundscapes, and live they offer a dizzyingly intense show with songs from throughout their long and varied career. Add to this the gnarly Gothic / Industrial / Electronic maelstrom of veterans CASSANDRA COMPLEX, the modern Post-Punk of SOVIET SOVIET and Occult-Rock of WHISPERS IN THE SHADOWS and the bleak Gothic of German band REPTYLE, and you pretty much have all bases covered. "Something for everyone" is a cliché, but here it is definitely appropriate.
Come and celebrate a movement rooted in the past, but one always growing and evolving. This will prove to be a truly unforgettable day of fabulous music and entertainment.
Additional Festival Information

Doors: 14.00
Start: 15.00
Tickets: 63.20 euros via https://headlineconcerts.de/produkt/new-waves-day-2021/
Info: https://www.new-waves-day.com/
Facebook Event: https://www.facebook.com/events/354161712521300