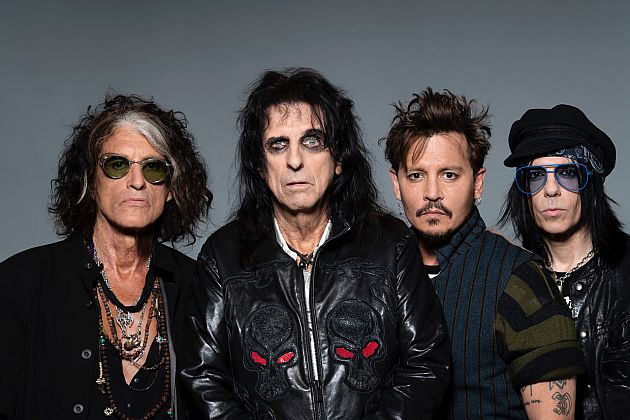 Rudolf-Weber-Arena, Oberhausen, Germany
20th June 2022
The Hollywood Vampires

The must-have ticket for the legends event of the music summer 2023! Superstar Rock band THE HOLLYWOOD VAMPIRES with Rock classics and their own songs on tour in Germany! Johnny Depp, Alice Cooper, Joe Perry (Aerosmith) together on stage!
The time has finally come and the three-year wait is over: THE HOLLYWOOD VAMPIRES are coming to the Rudolf-Weber-Arena in Oberhausen on June 20, 2023! The band around Johnny Depp, Alice Cooper and Joe Perry (AEROSMITH) then strips off live their image as "the most expensive cover group in the world" (ALICE COOPER). Tickets for the shows of the US super group are available in advance from June 27, 2022. It is undisputed that tickets for the performances of this formation around a Hollywood megastar, the icon of Shock Rock and the lead guitarist of one of the most successful Rock bands in the world are THE must-have of summer 2023!
While they primarily presented classics like 'Whole Lotta Love' (LED ZEPPELIN), 'Cold Turkey' (John Lennon) or 'My Generation' (THE WHO) on their debut in 2015, it was already different on 'Rise' (2019). This CD contains 13 originals plus three covers including the 'Heroes' tribute sung by Johnny Depp. The song, which is currently at the top of the iTunes charts (metal, rock), was recorded where David Bowie & Co. recorded the original between July and August 1977: in the Hansa Studios in Berlin.
Unmistakable: The "Trio Infernale" and its four companions have pure joy in making music together and their post-modern, handmade (Hard) Rock. "In the beginning, it was all about honoring our hard-drinking friends who died in the 70s: Jimi Hendrix, John Bonham, Jim Morrison and all the others," revealed Alice Cooper in an interview. "So in 2015 we put together a bar band."
THE HOLLYWOOD VAMPIRES was the name of a Los Angeles celebrity drinking club that Cooper helped found in the 1970s. On the occasion of the release of their second CD (earMUSIC), the band members explained: "We didn't want it to sound like an ALICE COOPER album, nor like one from AEROSMITH. The record shows everyone at their best without anyone looking over our shoulders," concludes guitarist Perry. When THE HOLLYWOOD VAMPIRES fly in full of bite for evening performances, then one thing is certain: their concerts are THE celebrity (Rock) events of 2023!
Additional Concert Info

Doors: 18:30
Start: 19:30
Tickets: Tickets are available at www.reservix.de (exclusive presale from June 24th),
Eventim
, and at the stationary advance booking offices.
Info:
https://sparkassenpark.de/veranstaltung/hollywood-vampires-oberhausen-20-06-2023/
Photo by Ross Halfin