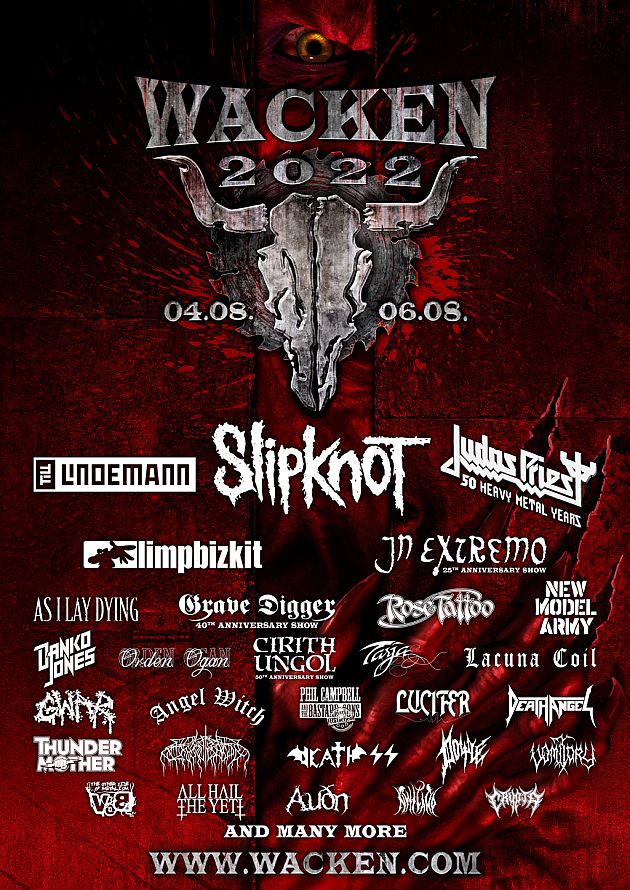 Wacken, Schleswig-Holstein, Germany
3rd to 6th August 2022
Preview Wacken Open Air & Wacken Wednesday 2022 with Lindemann, Slipknot, Judas Priest, Limp Bizkit, In Extremo, As I Lay Dying, Grave Digger, Rose Tattoo, New Model Army, Danko Jones and many more

The biggest metal festival in the world is back! Over 70 thousand metal heads from all over the world have been making the pilgrimage to the small village in Schleswig-Holstein every year since 1990. Once again, more than 100 bands will play on nine stages on an area of over 240 hectares. This year's headliners will be LINDEMANN, SLIPKNOT, JUDAS PRIEST, LIMP BIZKIT and IN EXTREMO.
After the two year break, the organizers of the Wacken Open Air wanted to make the festival even bigger. As a result, they have created the Wacken Wednesday. On the Wednesday before the official start of the festival, five exclusive bands will already be playing. If you want to take part in Wacken Wednesday, you need the extra ticket for this day in addition to the regular ticket.
Line-up

Wacken Wednesday 3rd August 2022

Tobias Sammet's Avantasia, Epica, Gloryhammer, Brothers Of Metal, Varang Nord
Wacken Open Air 4th- 6th August 2022

5th Avenue, Acoustic Steel, All Hail The Yeti, Alligatoah, Ann Wilson, Arch Enemy, As I Lay Dying, ASP, Asrock, At The Gates, Attic, Auðn, Belphegor, Black Inhale, Blind Channel, Blood Incantation, Bokassa, Brian Downey's Alive And Dangerous , Burgerkill, Butcher Babies, Cadaver, Cattle Decapitation, Cemican, Cirith Ungoi, Clutch, Corvus Corax: Era Metallum, Criminal, Crypta, Danko Jones, Dead Label, Death Angel, Deine Cousine, Dirkschneider, Disconnected, Doyle, Einherjer, Endseeker, Eric Fish & Friends, Eye Tea, Fateful Finality, Feuerschwanz, Freedom Call, Gaerea,Gluecifer, Grave Digger, Gwar, Gwendydd, Haggard, Hardbone, Hate, Hypocrisy , Hämatom, Höhner, Ill Nino, Imperium Dekadenz, Implore, In Extremo, Indian Nightmare, Infected Rain, Insanity Alert, Judas Priest, Kadavar, Kampfar, Kissin' Dynamite, Knasterbart, Lacuna Coil, Letzte Instanz, Life of Agony, Limp Bizkit, Lordi, Lost Society, Loudness, Lucifer, Mambo Kurt, Manntra, Mantar, Me And That Man, Merciful Fate, Michael Monroe, Mister Misery, Moonspell, Mork, Mr. Irish Bastard, Mutz, Nasty, Neaera, New Model Army, Nothgard, Nytt Land, Onslaught, Orden Organ, Overkill, Perturbator, Pestilence, Phil Campbell & The Bastard Sons, Powerwolf, Rectal Smegma, Reliquiae, Rose Tattoo, Rotting Christ, Satan, Scardust, Skyforger, Skyline, Slime, Slipknot, Slope, Soen, Space Chaser, Spidergawd, Storm Seeker, Stratovarious, Striker, Suicidal Angels Surgical Strike, Tarja, The Drift, The Halo Effect, The Iron Maidens, The Night Flight Orchestra , The Other, The Rise Of Mitican, The Spirit, Therapy?, Thundermother, Tiamant, Torfrock, Tribulation, Vended, Venom, Verheerer, Visions Of Atlantis, Voice Of Baceprot, Vomitory, Vulture, Wacken Firefighters, Walkways, Watch Out Stampede and Wind Rose
Tickets

The Wacken Open Air is once again sold out, but on the official ticket market you might still be able to get your tickets from 229 EUR.
Wacken.com
Tickets for the Wacken Wednesday for 66,66 EUR via
Metaltix
See you in Wacken, rain or shine!