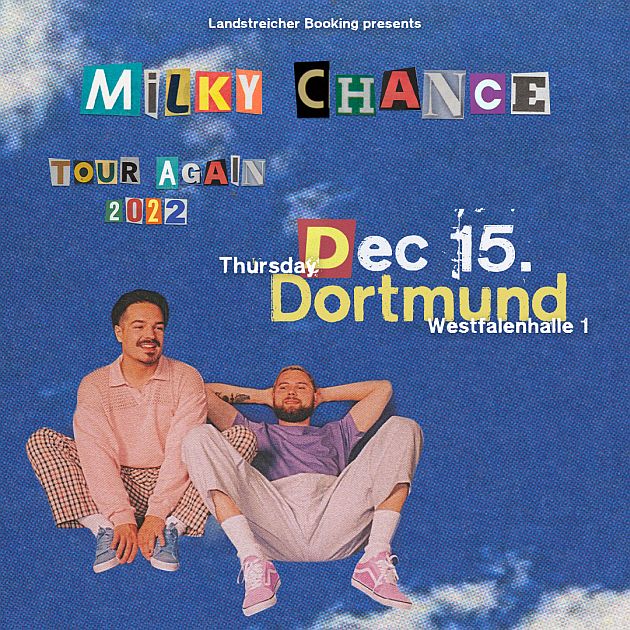 Westfalenhalle, Dortmund, Germany
15th December 2022
Milky Chance - "Tour Again 2022" - Support: Charlotte Cardin

MILKY CHANCE have been in constant flux since the release of their debut single 'Stolen Dance'. The song, which was recorded at the parents' house in Kassel by singer and guitarist Clemens Rehbein, developed into an international bestseller after the band put it online in 2013. It topped the charts in more than a dozen countries before reaching No. 1 on the Billboard Alternative Charts internationally. In the years that followed, the band released three critically acclaimed studio albums, racked up more than five billion streams, played sold-out concerts around the world, appeared on almost every late-night television show, and played legendary festivals from Coachella to Lollapalooza, the Bonnaroo to the ACL.
The band's final single 'Colorado' proved to be another hit, reaching nearly 100 million streams across platforms and then on the surprise release of November 2021 mixtape 'Trip Tape' which features a mix of originals, covers, demos and remixes too knew how to convince was included. "We mostly write and produce as a duo," says Dausch, "but on 'Colorado' we worked with a songwriting / producing duo called DECCO. The chemistry in the studio was so good that we really wanted to work with them again on 'Smoke In The Sky'. After all, music is about communication and connection, and working with other people brought us together with parts of ourselves that were completely new and unexplored to us."
Clemens Rehbein and Philipp Dausch, bassist and percussionist, also got involved in developed in other areas of their careers. With their Milky Change initiative, they are committed to environmental awareness and sustainability in the music industry. They are already setting new standards in the industry with their campaign of planting trees to offset the carbon footprint of touring. Also, in 2021, the band decided to take the leap to independence and set up their own label, Muggelig Records. "Having our own label gives us the opportunity not only to live out our creativity in music, but also to use it to break new ground in how we can reach people with our music," says Dausch. "You have more responsibility," adds Rehbein, "but also a lot more freedom". MILKY CHANCE have come a long way in the last decade, and while today our common societal destiny feels more uncertain than ever, one thing is certain: it will take a lot more than the end of the world to stop them.
Additional Concert Info

Doors: 18:30
Start: 20:00
Tickets: tickets are available from 47.45 euros (plus charges pre-sale) via
Eventim
Info: https://prime-entertainment.de/veranstaltung/milky-chance-3/