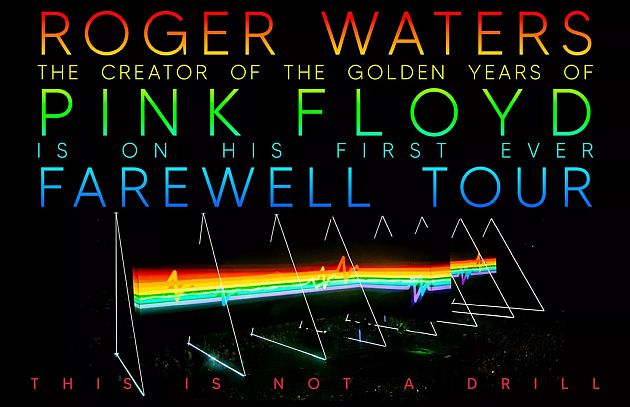 Lanxess Arena, Cologne, Germany
9th May 2023
Roger Waters - "This Is Not A Drill" Tour

As part of his "This Is Not A Drill" tour next May, ROGER WATERS, co-founder and musical mastermind of British Rock band PINK FLOYD, has recently confirmed that he will also be playing a handful of concerts in Germany, visiting Hamburg, Cologne, Berlin, Munich and Frankfurt. Due to the high demand, another show in Berlin on May 18 is added to the already confirmed farewell tour.
The musician's show includes 20 classic songs from the PINK FLOYD era and his career as a solo artist. Songs such as 'Us & Them', 'Comfortably Numb', 'Wish You Were Here' and 'Is This The Life We Really Want?' will be performed. Also, ROGER WATERS will perform his new song 'The Bar'.
After almost six decades of being a musician, rightly called the bedrock of Rock, WATERS can look back on a remarkable career. As the creative head of PINK FLOYD, he played a key role in the band's success, especially after the departure of former bandleader Syd Barrett in 1968, shaped the unique spherical sound and wrote a new chapter in the band's history. Now ROGER WATERS is reviving a part of it live on stage.
Speaking of the stage: To describe the stage design of the 'This Is Not A Drill' tour as state-of-the-art would be an understatement - it is unique: The central element of the production is the centre in the truest sense of the word centre stage placed by the fans, which offers an optimal view from every seat.
Instead of a round design traditionally associated with 360 degree shows, ROGER WATERS has a cross-shaped stage with additional walkways into the audience, which is mirrored by a gigantic size 12-panel three-dimensional LED cross hanging above. In line with the PINK FLOYD legacy, the LED area of more than 600 square meters offers an impressively immersive live experience in combination with the music. Video sequences and animations that change from song to song, coupled with an ingenious lighting design including ground-breaking laser installations, allow visitors to delve deep into the universe of PINK FLOYD and the psyche of ROGER WATERS and make the 'This Is Not A Drill' Show a truly unforgettable experience.
"'This Is Not A Drill' is a ground-breaking new rock and roll / cinematic extravaganza, performed in the round, it is a stunning indictment of the corporate dystopia in which we all struggle to survive, and a call to action to love, protect and share our precious and precarious planet home. The show includes a dozen great songs from PINK FLOYD's Golden Era alongside several new ones, words and music, same writer, same heart, same soul, same man. Could be his last hurrah. Wow! My first farewell tour! Don't miss it. Love R.", says Roger Waters about his upcoming tour.
The singer, guitarist, bassist and keyboardist will be accompanied musically on the center stage by Jonathan Wilson (guitar and vocals), Dave Kilminster (guitar and vocals), Jon Carin (keyboards, guitar and vocals), Gus Seyffert (bass and vocals), Robert Walter (keyboards), Joey Waronke (drums), Shanay Johnson (vocals), Amanda Belair (vocals) and Seamus Blake (saxophone).
German Tour Dates

May 7, 2023 Hamburg, Barclays Arena
May 9, 2023 Cologne, Lanxess Arena
May 17, 2023 Berlin, Mercedes-Benz Arena
May 18, 2023 Berlin, Mercedes-Benz Arena // additional show
May 21, 2023 Munich, Olympiahalle
May 28, 2023 Frankfurt, Festhalle
Tickets for the additional show in Berlin are available from Wednesday, November 30, 2022 10:00 a.m. from 70 euros plus fees at all known CTS advance booking offices and under the hotline +49 (0) 1806 - 570070 (0.20 €/call from a landline, mobile phone max. EUR 0.60/call) or via fkpscorpio.com and eventim.de.
Additional Concert Info

Doors: 18:00
Start: 20:00
Tickets: are available from 88.72 euros (plus charges pre-sale) via
Eventim
Info: https://www.fkpscorpio.com/de/bands-archiv/roger-waters/