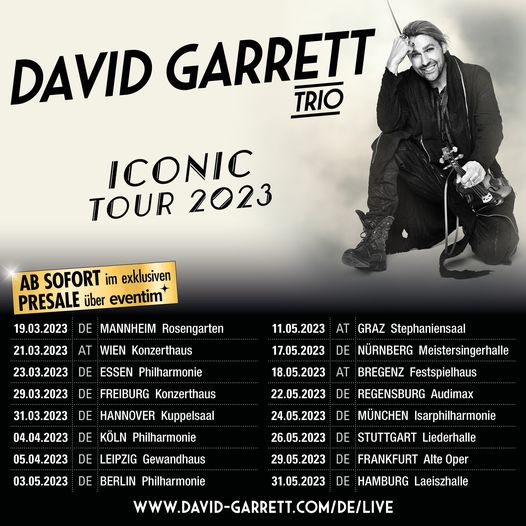 Laeiszhalle (Großer Saal), Hamburg, Germany
31st May 2023
David Garrett Trio - "Iconic Tour" 2023

After his successful tour "Alive-my Soundtrack" in 2022 with 32 concerts in eleven countries, David Garrett opens a new chapter with 'Iconic'. His new classical album 'Iconic' was released by Deutsche Grammophon on November 4, 2022. 'Iconic' is inspired by legendary violinists whose gems and soulful melodies thrilled David Garrett as a child. Music by Bach, Dvořák, Gluck, Kreisler, Mendelssohn and Schumann, to name but a few, can be heard in new arrangements for violin, guitar, and orchestra (by Franck van der Heijden and David Garrett). David Garrett will play the program for the first time in a trio together with guitar and bass in concert.
David Garrett's personal choice of music evokes the golden era of violin virtuosi when performers such as Zino Francescatti, Arthur Grumiaux, Jascha Heifetz, Fritz Kreisler, and Yehudi Menuhin delighted audiences with popular encores and other miniatures. They raise the young musician's admiration until today. David immersed himself in their timeless recordings as role models and as a result, conceived the program 'Iconic'. "Unfortunately, many beautiful works from the early days of the great virtuosos have fallen into oblivion," says David. "That's why it means all the more to me that I now have the opportunity to bring all these beautiful pieces back to life."
David Garrett began playing the violin at the age of four. He made his concert debut at the age of ten, and just three years later he became the youngest artist ever to be signed by Deutsche Grammophon. By his mid-20s, he was already looking forward to a stellar solo career and a recording of all 24 of Paganini's caprices. As one of Itzhak Perlman's first students, he went to the world-famous Juilliard School in New York. Over the past two decades, he has performed with many of the world's leading orchestras and conductors, reaching new audiences internationally with rock ballads, classical sonatas, solo bravura numbers, and film scores. His autobiography 'If you only knew', in which he describes his sometimes rocky path from child prodigy to the successful artist, was published by Heyne Verlag in early 2022.
Additional Concert Info

Start: 20:00
Tickets: are available for 62.00 euros (plus charges pre-sale) via
Eventim
Facebook Event: https://www.facebook.com/events/452052393533145