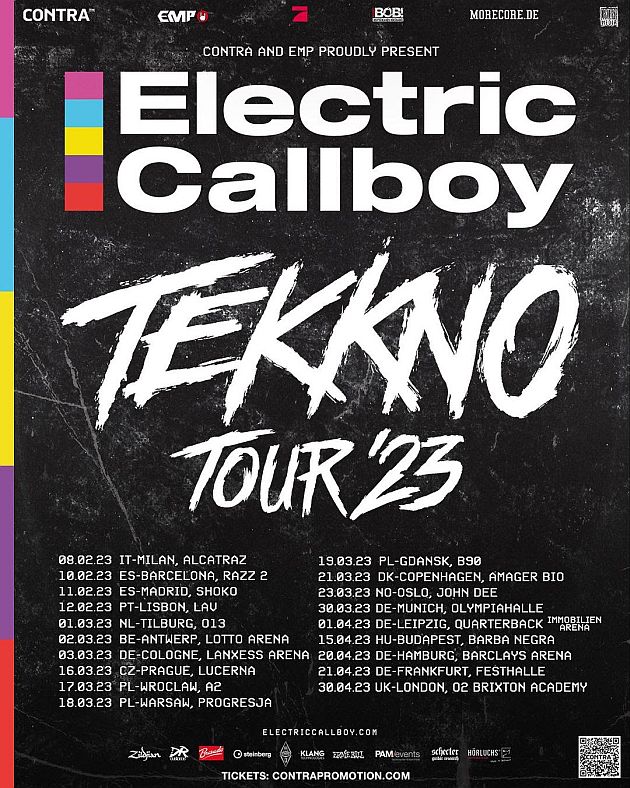 Rockhal, Esch-sur-Alzette, Luxembourg
28th April 2023
Electric Callboy - "Tekkno Tour '23" - Support: Future Palace, Holding Absence

ELECTRIC CALLBOY are currently one of the hottest live acts when it comes to modern heavy sound. Completely sold-out shows all over Europe and one record breaking single release after the next are proof of the exceptional status that the band from Germany has achieved by now.
Formed in 2010 under the name ESKIMO CALLBOY, the band has already made plenty of noise in its first decade of existence, picking up newcomer awards, achieving top ten placements and causing a worldwide sensation, but judging by what's been going on in the last two years, that was just the prelude. Since the singer Nico Sallach, who joined the band in 2020, the guys from Castrop-Rauxel have been really going for it! The very first single with him broke all previous dimensions: 'Hypa Hypa' not only reached over 60 million plays on YouTube and the usual streaming portals.
The next single 'We Got The Moves', which is also featured on the new album 'Tekkno', proved to be another hit. Especially the screamingly funny video, in which the band takes the piss out of themselves with undercut wigs and nose glasses in their typical self-deprecating manner, has been the talk of the town ever since and has received a lot of attention worldwide.
The next hit, 'Pump It', also featured on 'Tekkno', whose incredibly funny clip was inspired by the aerobics videos of the 1980s, also made waves. The community even demanded that the band participate in the Eurovision Song Contest for Germany with this song, whereupon the musicians spontaneously filmed an official application. However, participation in the national preliminary round for the ESC was rejected due to an alleged lack of radio suitability, triggering a storm of indignation against the jury that culminated in a petition with over 125,000 signatures. Once again, ELECTRIC CALLBOY was the talk of the town.
Additional Concert Info

Doors: 19:00
Start: 20:00
Tickets & Info: https://www.atelier.lu/shows/electric-callboy/
Facebook Event: https://www.facebook.com/events/1112481493005543