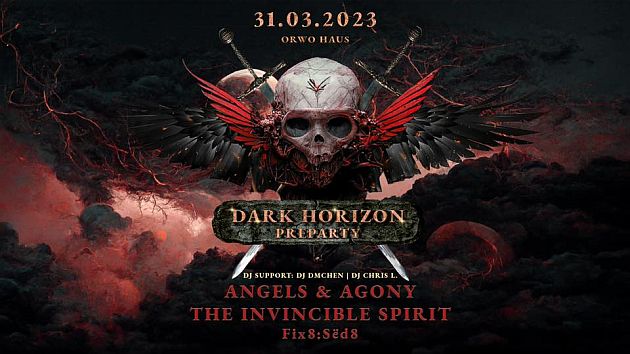 ORWOhaus, Berlin, Germany
31st March 2023
Warm up Party for Dark Horizon Festival 2023 with Angels and Agony, The Invincible Spirit, Fix8:Sed8

On the 31st of March in ORWOHaus in Berlin the warm-up party for Dark Horizon Festival 2023 will take place. The line-up features the Dutch project ANGELS & AGONY and two German ones: THE INVINCIBLE SPIRIT and FÏX8:SËD8. The after-party will be led by DJ Chris L. and DJ DMchen.
ANGELS AND AGONY are a Dutch Future Pop band consisting of vocalist Reinier Kahle, guitarist Erik Wierenga, DJ Marco van Belle on synthesizer and backing vocals and Fried Bruggink as sound engineer and drummer. The band formed in 1995 and produced two EPs before its first full album, 'Eternity' (2001). 'Eternity' was produced by VNV NATION's Ronan Harris. Other high-profile collaborations include Axel Ermes of GIRLS UNDER GLASS, , and [:SITD:] The band's current record label is Out of Line, a German label of industrial and Synth Pop oriented electronic bands. Metropolis Records is the band's US distributor since 2004.
THE INVINCIBLE SPIRIT is an electronic music project by the German musician Thomas Lüdke. It was launched in 1986. Thomas Lüdke was already able to show great success in 1984 with his first compositions: 'Devil Dance', 'Love is a kind of mystery', 'Thoughts', 'Shadows', 'For you' and with his band INVISIBLE LIMITS, which was founded by him.
With their fifth album 'The Inevitable Relapse', their third for Dependent, FÏX8:SËD8 are taking the final step from a band with a huge buzz to an established force within the Electro Industrial scene. The band's name is derived from the psychiatric term "fixated/sedated". Currently Martin Sane is working on his new album 'Ocgtagon'.
Additional Concert Info

Doors: 20.00
Start: tba
Tickets: are available via https://shop.paylogic.com/f615ccff86ff417295260ed3f2cee3f6/ - Early Bird 20€, Standard 28€, At doors 35€
Facebook Event: https://www.facebook.com/events/3342692252656908/