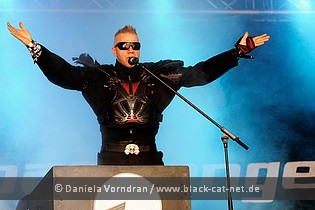 Story, Moscow, Russia
24th September 2011
Synthember Wave Festival III: Blind Passenger, Beborn Beton, !Distain, Kryonik Moon

Synthember Wave became a fine autumn tradition. This year it will be already the third festival. Three classical synth pop bands are going to represent different facets of this musical direction and make this overcast Moscow evening brighter.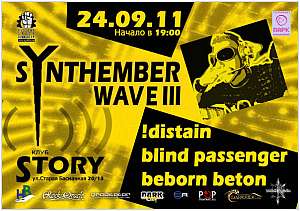 BEBORN BETON, founded 20 years ago, are synth pop icons. They mix up dancing rhythm of the 80s with gothic romantic. Today there is no other artist, who would dare to make something like this. Beside their 'best of' program they are going to play some new songs, which will be played live for the very first time. They will represent the dramatic side of synth pop music. BLIND PASSENGER, who are responsible for hard part, is the "new old" project of Nik Page. After about six years break Nik Page recollects fighting spirit and starts new journey with store of hits from his previous projects, right to planet Earth. !DISTAIN, known for their stability, are in charge for romantic irony this evening. Since the foundation of their band, musicians haven't been paying lot of attention to some experiments. That's why fans never had doubted high quality of every coming album of this band. At the festival !DISTAIN will introduce their recent work, called 'On | Off'.

Additional Concert Info
Doors open: 7:00 PM
Starts: 7:30 PM
Tickets can be bought online at www.show.ru, www.popmarket.ru (deliver Moscow only)
More Information at www.synth.ru



See also (all categories):