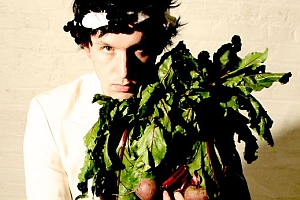 Hotel Shanghai, Essen, Germany
14th April 2016
Patrick Wolf & Calpernia Sarah Adams

After years of only playing acoustic shows, one of the most innovative contemporary artists, Patrick Wolf, is bringing back the funk with his new record 'The Wild Sound' which he will exclusively introduce on the tour for the very first time. Patrick Wolf has shed his skin numerous times by transgressing musical borders, combining all musical genres, from folk to pop to the darkest of electro, and creating his very own style.
Some would consider him a prodigy as the flamboyant artist in his 30s has truly revolutionised the understanding of music with his seven records by combining so many different styles some believed would never sound good if fused together. His talent hasn't gone unnoticed, and so he's already worked with artists like the great Patti Smith or Tilda Swinton who have added their own unique character to the songs. Another bonus of the tour is the opening act: The trans activist Calpernia Adams will deliver an acoustic set and the "realest" her, as she has stated on her Facebook Page.
Patrick Wolf's live shows are as different as he is: At times wild, at times tranquil and calm. The shows in April promise to be the first, though, considering they stand under the banner of 'The Wild Sound'.
Additional Concert Information

Doors: 8pm
Begins: 9pm
Ticket Price: 21 EUR plus charges (pre-sale)
Tickets:
https://www.krasserstoff.com/#/ticket/103774
Event Page:
https://www.facebook.com/events/1713472465556731/
Artist Page:
https://www.facebook.com/patrickwolf
/
https://www.facebook.com/calpernia.addams
Info:
http://www.schoneberg.de/konzerte-shows/kuenstler/details/patrick-wolf.html