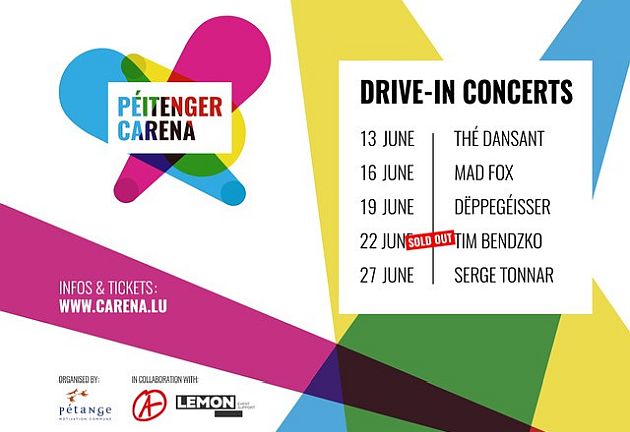 Péitenger Carena, Petange, Luxembourg
13th to 27th June 2020
Drive-In-Concerts with a Thé Dansant, Mad Fox, Dëppegéisser, Tim Bendzko, Serge Tonnar

The festival and concert summer is cancelled because of Corona. Festival friends can cancel the planned excursions in summer 2020 from their calendars: Numerous open-air events cannot take place due to the Corona crisis. In Germany, for example, the festivals Hurricane, Southside, Deichbrand, Elbjazz, Limestone, Highfield and M'era Luna are cancelled, among many others, as the organiser FKP Scorpio announces on its website.
Also, the popular festival in the Eifel Rock am Ring cannot take place as planned this year. Furthermore, the mass events Rock im Park (Nuremberg), Melt (Saxony-Anhalt) and Wacken (Schleswig-Holstein) are cancelled. Luxembourg's event organizers are also feeling the effects of the Corona crisis with full force. As the government announced in mid-April, no major events or sporting events can be held until 31 July. The festival Siren's Call in Neumünster Abbey (June 27) and possibly also the e-lake in Echternach (August 7 to 9) will be affected. Many other events are also likely to fall through. The celebrations around the national holiday on 23 June have already been cancelled.
But a small glimmer of hope was announced by A-Promotions on last Friday. Together with the city of Pétange, Den Atelier organizes drive-in concerts from June 13th to 27th. During this period 4 bands and musicians will have the honour to perform in Pétange. The whole thing will start on 13 June with a "Thé Dansant" (Tea Dance). Three days later the local band MAD FOX will rock the village in the south while DËPPEGÉISSER will provide a good atmosphere on June 19th.
But the highlight will be the concert of the German musician TIM BENDZKO, on June 22nd. He was the first of the young German poets, followed by long-established stars into his mother tongue, not to mention new, young German singer-songwriters. TIM BENDZKO has shown that German-language Pop music can be exciting and inspire the masses. TIM BENDZKO took a whole year to create his fourth studio album 'Filter'. Necessity is the mother of invention and so it can't be a coincidence that a former car auctioneer finally plays live & with band at drive-in cinemas. Four days later, the Luxembourg artist SERGE TONNAR will do the honours and provide a worthy conclusion.
Program

13 June: Thé Dansant
16 June: Mad Fox
19 June: Dëppegéisser
22 June: Tim Bendzko
27 June: Serge Tonnar
Additional Concert Info

Doors: 20:00
Start: 21:00
Tickets via www.atelier.lu
Info:
www.atelier.lu
/
www.carena.lu
See also (all categories):