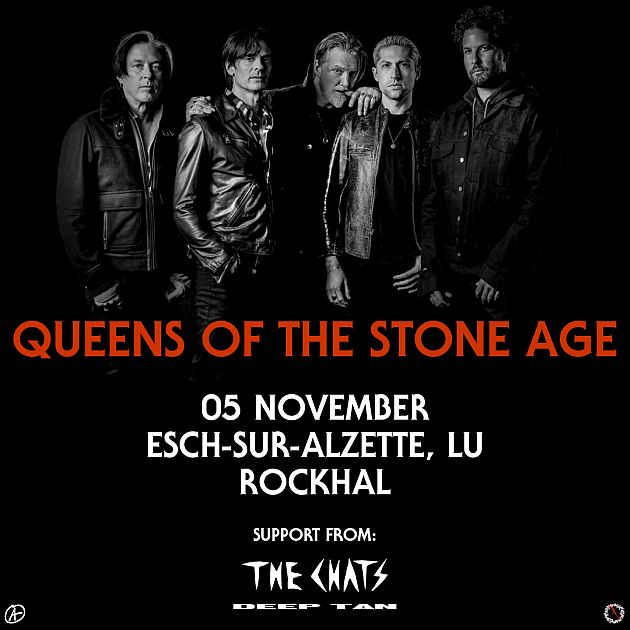 Rockhal, Esch sur Alzette, Luxembourg
5th November 2023
Queens of the Stone Age - "The End is Nero Tour" - Support: The Chats, Deep Tan

After a six-year-long wait, devoted fans of the reigning contemporary rock band were finally rewarded on June 16th with the release of QUEENS OF THE STONE AGE's eagerly anticipated eighth album, titled 'In Times New Roman...'. Following this momentous release, the quintet, widely regarded as one of the premier acts in the rock music landscape of the new millennium, embarked on an extensive world tour. Their journey will soon bring them to Europe in the upcoming autumn season.
These shows will feature the company of two other remarkable acts. First up, we have the Australian trio known as THE CHATS, who have carved out a distinct identity with two EPs and two albums under their belt. Their albums showcase a compelling fusion of 1960s garage punk and 1970s new wave punk, delivering a powerful musical experience. Additionally, joining the line-up is the London-based post-punk trio, DEEP TAN, fronted by Los Angeles-based singer and model Wafah Dufour. Formed in 2019, this all-female trio has already released two EPs and is widely recognized as one of the most prominent acts to keep an eye on in the current music scene.
Additional Concert Info

Doors: 19:00
Start: 20:00
Tickets: SOLD OUT!
Facebook Event:
https://www.facebook.com/events/739905871243668/
See also (all categories):