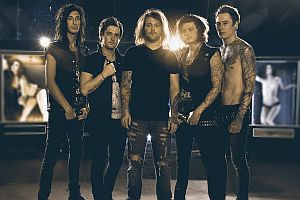 ASKING ALEXANDRIA are a Metalcore band, that enriches its sound with trance elements, reminding more of Ambient music instead of Heavy Metal. In 2013, the band released the third album 'From Death to Destiny', climbing up to position six in US Billboard charts. After an exciting festival summer, the band embarked on its world tour now, leading them also to five German cities, supported by three special guests: The Ghost Inside, Crown The Empire and Secrets. This surely will be an exciting tour. And we are giving away all in all 5x2 tickets for the concerts. You chose the city you want to join!
If you wanna take part in the raffle, please send an email until 24th September 2014 with the headline "Asking Alexandria Raffle" to
This email address is being protected from spambots. You need JavaScript enabled to view it.
and include following information:
- Full Name
- City of Concert you want to join
And here are all dates
08.10.2014 Hamburg / Gruenspan (moved from Große Freiheit 36)
13.10.2014 Berlin / Kesselhaus (moved from Huxleys Neue Welt)
17.10.2014 Munich / Tonhalle
18.10.2014 Cologne / E-Werk
19.10.2014 Wiesbaden / Schlachthof
Good luck!