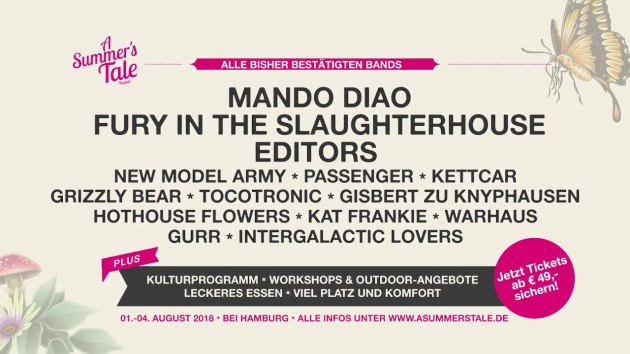 Between deep forests, quaint bogs and breezy birch groves, the A Summer's Tale in Luhmühlen near Lüneburg is a wonderful world full of musical treasures, performance highlights, exciting film talks, entertaining readings, comedy and theatre performances as well as interesting perspectives and portraits. A multi-day voyage of discovery that anyone can actively participate in: yoga, crafts, cooking, studying, dancing, acting, canoeing, balancing slackline and much, much more, just to let yourself drift and try out what may have been tried before wanted. A Summer's Tale is a world of its own in the midst of beautiful nature with a carefully selected menu of culinary delights, space and comfort. The festival in the midst of nature is geared to the carefully selected range of culinary specialties, plenty of space and comfort also to families. A Summer's Tale is more than just music: the event is a short holiday that is not tied to age or musical tastes.
Additional Festival Info

Date: 1st – 4th August 2018
Place: Luhmühlen, Germany
Line-up:
Concerts: Mando Diao, Fury In The Slaughterhouse, Editors, Madness, Belle & Sebastian, Passenger, Kettcar, New Model Army, Grizzly Bear, Tocotronic, Oh Wonder, Gisbert zu Knyphausen, Meute, Hothouse Flowers, Jonathan Jeremiah, KT Tunstall, Kat Frankie, Wallis Bird, Warhaus, Fantastic Negrito, Torpus & The Art Directors, Isolation Berlin, Gurr, Intergalactic Lovers, Riley Pearce, Rob Lynch, Jon Flemming Olsen
Shows & Performances: Der Postillon - Live, Zeiglers wunderbare Welt des Fußballs - Live Poetry Slam, Micky Beisenherz & Oliver Polak, Shahak Shapira, Feierabend-Comedy, Siegfried & Joy, Herr Schröder, Andy Strauss, Robert Alan, Kama Dance Company, Als Donald Trump nach Emden kam, Aerodice, Hamburger Kneipenchor, Hansemädchen, Massenkaraoke
Readings: Linus Volkmann, Lisa Kreissler, Anja Rützel, Die Cops ham mein Handy
Films: European Outdoor Film Tour, Shortfilm Sessions, Pt. 1: Music, Shortfilm Sessions, Pt. 2: Animation, Shortfilm Sessions, Pt. 3: Love & Catastrophe
Family: Raketen Erna, Reggaehase Boooo, Pt. 4, Die Berglinge, Zwergstadt Playing Mobile, Family Yoga, Family-Climbing-Tree, Children's Dance
Perspectives & Portraits: Riversurfing, Start With A Friend, König der Hobos, Imaani Brown: Hallo Deutschland, Unpacked Shopping, Good instead of less bad, Why caring about insects!
Workshops & Activities: Drum Circle, Bunte Stulle, Kunst im Dialog, Smart Photography, Makramee-Jewellery, Woodworking, Was guckst Du? Comic-Workshop, Keep It Fresh, The good feeling of doing the right thing, Little meteorology, With compass and map on the way, WWF: Design Thinking Workshop, WWF: Let's stop the plastic flood?!, Climbing yoga, Surf yoga, Tai Chi, Shiatsu, Meditation, Vinyasa Yoga, Handstand Workshop, Acro Yoga, Thaim Massage Workshop, Northern Soul Dance, Swing Workshop, Electro Swing Workshop
Outdoor & Activities: Globetrotter Waldwinkel, WWF-Welt, Polar camp, Canoe, Posterkrauts Siebdruckausstellung, Activity Area
Aftermovie 2017: https://youtu.be/rcLgfQC3BmM
Fees: Day-tickets from 49€
Ticket-hotline: +49(0)1806- 853 653
More Info: http://www.asummerstale.de
Tickets:
Eventim
We are giving away a festival CD package. If you wanna take part in the raffle, please send an email with your FULL NAM and your POSTAL ADDRESS until 15th July 2018 with the headline "A Summer's Tale 2018" to
This email address is being protected from spambots. You need JavaScript enabled to view it.
. Good luck!