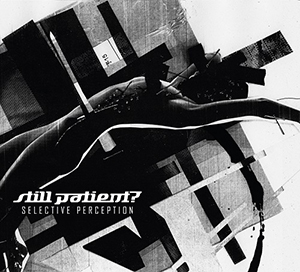 Artist: Still Patient?
Title: Selective Perception
Genre: Gothic Rock
Release Date: 31st January 2014
Label: Schwarzrock (Broken Silence)
Review Flash

The story of STILL PATIENT? has been plagued with imbalance. From departures to long hiatuses, to comebacks and new departures, is a wonder that the 'Selective Perception EP' managed to keep the style and flavour characteristic of the band. Summoning old school Goth rock and some hard-rock antics, after more than a decade, 'Selective Perception' seems merely a warming up. I have to admit that the sound is good, and the small jokes evident. Maybe a belated way to face the frustration of their ironic history… The EP is balanced. A strong and catchy opening track 'All Is Well' will trigger your power fantasies and make you laugh through the manipulative chorus "Am I the only one who knows what to do / Am I the only one who's finally got a clue." Tuning down the mood through 'Impact', a brooding reproach of betrayal; and 'Screaming Red Roses.' Catching up once more by the 4th track 'Anavryn II' to find closure in 'The Brood of Liars.'
Conclusion: 'Selected Perception' by STIL PATIENT? is a decent comeback that actually thrived into the 2015 'Shape Shifters' album. A good way to exercise the muscle for these oldies, and a better way to state that no matter how coarse the paths, when you wanna play you just do!
Rating: 7 / 10