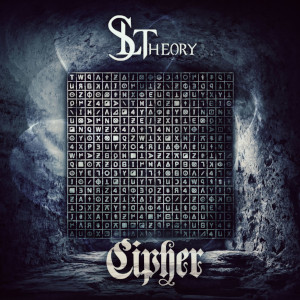 Artist: SL Theory
Title: Cipher
Genre: Prog Rock / AOR
Release Date: 6th December 2019
Label: Rock of Angels Records
Review Flash

Greece's answer to AYREON is called SL THEORY and 'Cipher' is their fourth release. Started as a one-man band in 2009 by Sotiris Lagonikas, SL THEORY became a full member outfit in 2017. This has it all: six vocalists, keyboards and a song that has 10 parts and is over 13 minutes long (The Life and Death of Mr. Ess). The material is a nice mixture of proggy tunes with a nice 80s AOR feel to it, complex structures, catchy melodies and awesome vocals/ backing vocals. Main vocalist Mike Karasoulis fits like a glove with his midrange voice, able to hit the highs and lows AOR needs.
Guitar duo Alex Flouros and Yiannis Nigdelis leave nothing to chance and this is a bass you can clearly hear (I look at you Lars!) the drumming is serving the material nicely and paces the complex arrangements in a great way. I get the feel of MEAT LOAF, FOREIGNER and other Classic Rock acts that sometimes delved into AOR but here you always have that extra bit in the form of proggy elements which makes the stuff interesting and sometimes really awesome.
Conclusion: If you are into Prog or AOR or even love both, check out SL THEORY; songs to check out: 'You never happened' and 'If it wasn't for you'.
Rating: 8.5 / 10