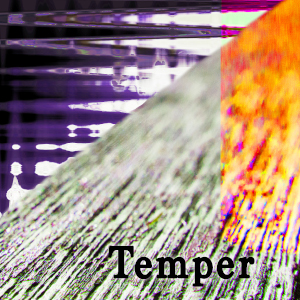 Artist: Freddy Spera
Title: Temper EP
Genre: Heavy Rock / Metal
Release Date: 17th April 2020
Label: Self-Released
Review Flash

As stated many times before during the Pandemic I was just contacted by Federico "Freddy" Spera over his DIY EP 'Temper'. At first I will give you the press text and will later use my own words to describe what I have here: "Federico "Freddy" Spera is an Italian-Brazilian musician and producer based in Liverpool UK. Having graduated from the Liverpool Institute of Performing Arts in 2015, he has been one of the founding members of hard rock outfit NOVACROW, released music under his extreme metal project CREJUVENT, performed across the country for MISFITS tribute band FAMOUS MONSTERS, and regularly performs as a session musician and function bassist in various bands. He has produced music for several hard rock/metal bands including EXHUMATION, FEAR ME DECEMBER, TIGERPUNCH, and several others as well as recording and producing music for all of projects and bands he's involved in.
What started out as a simple exercise in song-writing and recording turned out to be something more personal and fruitful. Aided by session drummer Pete Roper (XAMVOLO, TOMMY TENDERLOIN AND THE PEPPERCORN KIDS, THE RHYTHM MAGICIANS, etc) on the drums, Temper demonstrates a more earnest and natural approach to Freddy's song-writing and producing - the result is a release that's decisively less heavy and more simplistic than any of his previous releases under other projects." I don't know what I expected but let me put it in words for you: this is an interesting piece of music, somewhat 90s alternative but with a few growls here and there and a somewhat spherical / progressive touch in composition and vocals. The vocals are a bit unpolished but overall, this is a good fit for the songs and makes the music more authentic.
Conclusion: Although, in parts, this is metal it also is a very thought-full and chill set of songs, enjoyable and recommended by yours truly...
Rating: 7 / 10