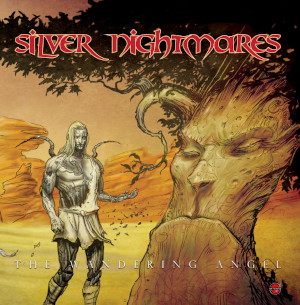 Artist: Silver Nightmares
Title: The Wandering Angel
Genre: AOR / Progressive
Release Date: 31st March 2020
Label: Self-released
Review Flash

It is Thursday the 9th April 2020 the planet is in the 3rd week of isolation and I write and write… this time about a Palermo, Italy based AOR band called SILVER NIGHTMARES. As usual we start with the press text: "Bassist Gabriele Esposito, drummer Alessio Maddaloni and keyboardist Gabriele Taormina, the band went through several configurations until arriving at its current line-up with Mimmo Garofalo (guitars). They wrote, composed and orchestrated the musical material that would make the repertoire of their first EP "The Wandering Angel (2020).
To rehearse and record the songs, they called upon Simone Bonomo and Michele Vitrano (two experienced vocalists), Giulio Maddaloni (flute), Tody Nuzzo (guitars) and Davide Severino (trumpet). Their style drew from a wide variety of influences including Progressive Rock, AOR, Heavy Metal and classical music. (A diverse set of) Influences on the band members: ASIA, GENESIS, SAVATAGE, TRANS-SIBERIAN ORCHESTRA,STYX, KANSAS,TOTO, IRON MAIDEN, JETHRO TULL, FOREIGNER, DREAM THEATER, OPETH, GHOST, MARILLION, ANATHEMA, KATATONIA, JUDAS PRIEST, TEN."
Well... this is very, very progressive instrument-wise (Hammond Organ, trumpet etc) and the influence of bands like ASIA and FOREIGNER is present and felt most in the title track, I cannot make out any influence of JUDAS PRIEST but I am not the authority when it comes to music theory as I am only a scribe and not a musician. This EP is very melody driven and rather soft when it comes to the stuff I usually review. Bonomo's and Vitrano's voices are well-trained and carry the message nicely but overall this is very tame and I'd wish for more of an up-tempo song to mix things up a bit, give the EP an edge.
Conclusion: Well executed AOR/Prog in the vein of the 80s.
Rating: 6 / 10