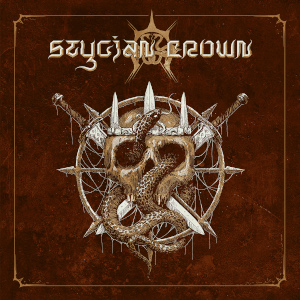 Artist: Stygian Crown
Title: Stygian Crown
Genre: Doom
Release Date: 26th June 2020
Label: Cruz Del Sur Music
Review Flash

Tonight at this unholy place: LA, California's STYGIAN CROWN… let's check the press text first: "On their debut self-titled album, STYGIAN CROWN introduces the sound of 'Candlethrower' to the world: A devastating combination of Doom and Death Metal, topped off by classically-trained vocals! They call it 'Candlethrower'. It conjures up images of doom-dancing and rolling tanks; doom-on-death; death-on-doom; CANDLEMASS and BOLT THROWER melded together. Considering the background and sizeable résumés of its members, it wasn't by accident Los Angeles's STYGIAN CROWN happened upon this sound. On their debut self-titled foray, STYGIAN CROWN offers something few bands have in their arsenal: An album tuned to B, with a 26" bass drum and a singer who doesn't need auto-tune.
STYGIAN CROWN was formed in 2018 by former MORGION and current GRAVEHILL drummer Rhett Davis, who tapped his GRAVEHILL bandmates Nelson Miranda (guitar) and Jason Thomas (bass) to help launch the band. MORBID ECLIPSE guitarist Andy Hicks was the next to join, and with the help of long-time friend Bob Kassing, classically-trained vocalist Melissa Pinion was discovered after Kassing (who has since sadly passed away) introduced her to Davis. Shortly thereafter, Davis's wife discovered a YouTube video of her singing a cover of IRON MAIDEN's 'Hallowed Be Thy Name', making her the perfect fit for STYGIAN CROWN."
The first thing you as a listener hear is a vocalist that has a very deep and rich voice which is not at all times discernible as female (in metal you have so many dudes with clear, relatively high vocals), Melissa's voice is quite deep and not the overtaxed cliché of a female Metal vocalist (see NIGHTWISH, WITHIN TEMPTATION etc.) the rest of the composition and instrumentation reminds of bands like CANDLEMASS or SOLITUDE AETERNUS, great riffing, the basslines layered thickly, impellent drums that drive this monster forth and all in a hypnotic narrative that makes time itself a thing of no importance at all. Only one thing is missing: the slightest reminder of BOLT THROWER.
Conclusion: If you dig slow, heavy doom with heart and soul check out STYGIAN CROWN.
Rating: 7 / 10