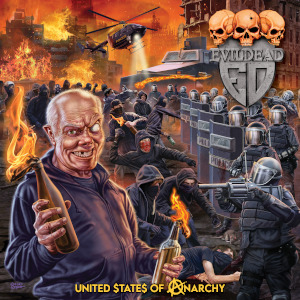 Artist: Evildead
Title: United States of Anarchy
Genre: Thrash Metal
Release Date: 30th October 2020
Label: Steamhammer / SPV
Review Flash

Good things tend to come back, huh? To be honest this is my first encounter with the music of EVILDEAD but after a few minutes in I know it won't be the last. These guys formed the band in 1986 (I was 5 year old by the time). This is the bands third full-length output and I must say musically this is a very cool and badass mix of rad subgenre parts: Gang-shouts, SLAYER like vocals, almost progressive riffage so what's not to love? The only thing I just absolutely hate about records like this is that after 38:35 I have to stand up to press repeat. No shit, this actually was worth getting up in the morning, hungover like fucking hell, coughing up my lungs because I thought it was a good idea to smoke 666 packs of Black Death while drinking approximately 8 gallons of whiskey mixed with kerosene (fake news you say?).
Ok, back to actual reality, 29 years after the release of the bands last full-length output 'The Underworld' we finally get this tough-as-nails-son-of-a-bitch record that came to kill and killing it does. Vocalist Phil Flores still sings like a 20 year old, Gonzales and Garcia could end an alien invasion with their killer riffs, Rob Alaniz on drums beats his kit like he intends to murder it and Medina is the in-expendable pace-making machine that glues this monstrous thrash metal beast together. By the Way: the lyrics are pretty critical when it comes to our social structures (maybe this year spawns some of the greatest lyrics since the cold war). Check out 'No Difference' for reference on great lyrics.
Conclusion: if you dig bands like DEATH ANGEL, SLAYER, ANTHRAX or HIRAX you should destroy your hotel room to this baby.
Rating: 8 / 10