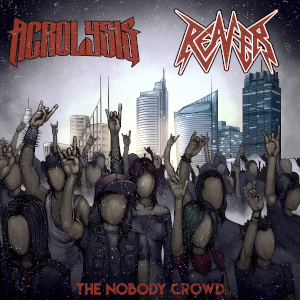 Artist: Acrolysis & Reaver
Title: The Nobody Crowd (Split EP)
Genre: Thrash Metal
Release Date: 25th November 2020
Label: self-released
Review Flash

Well, apparently there is a blooming Thrash Metal scene in New South Wales, Australia (who would have thought so?). Tonight I have the pleasure to review the split EP 'The Nobody Crowd', both bands are high energy meets Thrash but REAVER is more Thrash driven with hints of a more extreme approach (here and there you can even hear punk influences) where ACROLYSIS is more of a band dancing on the border between MOTÖRHEAD worship and being a full-blown bad ass Thrash Metal band. Both bands trigger the feel of needing an ice-cold beverage, a cigarette and a shot of Whiskey to go with the beer. I really dig "A Message to You" for it being what it is, a high energy rocker with some killer riffs, authentic vocals and lots of old-school fun. In the end I dig ACROLYSIS a bit more because they are more melodic and less chaotic but I really think these two bands go pretty well together (like a beer and a shot).
Tracklist

01. A Message to you (Acrolysis)
02. Visions (Acrolysis)
03. Broken Smoker (Reaver)
04. The Nobody Crowd (Reaver)
Conclusion: If you like it simple, solid and authentic with some killer riffs and an old-school feel to it, jump in, it's fun in here...
Rating: 7.5 / 10