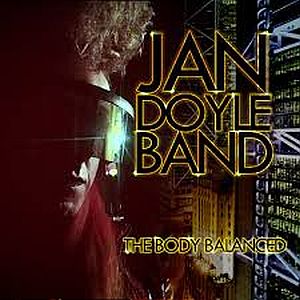 Artist: Jan Doyle Band
Title: The Body Balanced EP
Genre: Electronic / Pop
Release Date: 14th March 2020
Label: Insurrectionary Neo Futurism
Review Flash

What to do when you're from Doncaster? Escapism is surely the only option, and I can say this with impunity since I originated in Huddersfield. I once put a gig on in Scunthorpe too, but we don't talk about Scunthorpe. So, what do you do? In Doncaster? You either get out, or you create something to make it somehow more palatable. And creativity is the colourful and occasionally confusing cocoon JAN DOYLE BAND have cast around themselves. If you can't change the red brick, chuck a load of rainbow paint on it and go dancing after the kebab van has shut for the night. And 'The Body Balanced EP' shows-off the full range of creative escapism the band has to offer. On the title track, the sparse pulse and throb soon blooms into something exceedingly nocturnal, thanks to some SISTERS OF MERCY guitar and a kind of dank relentlessness that propels it off down some dark alleyway to a club with a graffiti door.
'Confusion' is TENPOLE TUDOR jamming with SIGUE SIGUE SPUTNIK, as odd and incongruous as that sounds, whereas 'Reflections' is a subdued, reflective and quite beautiful midnight musing on, oh y' know, all that important stuff. 'Play Pretend' is a sci-fi high-NRG romp that's there to be hated but will end up being loved in no small part due to a chorus that laughs at you because it's so good. And sticking a cover of camp classic 'Yes Sir, I Can Boogie' on the end is a bold move. Yes, it shows that nothing here is being taken too seriously, but personally I'd dispense with it. JAN DOYLE BAND have enough ideas of their own without having to resort to cruise-ship stuff.
Conclusion: Two things. First, this EP represents a unique and versatile band flexing their creativity in several directions at once, and well worth checking out to see which one suits you best. And second, it just shows. Wherever you are from, there is hope.
Rating: 8 / 10