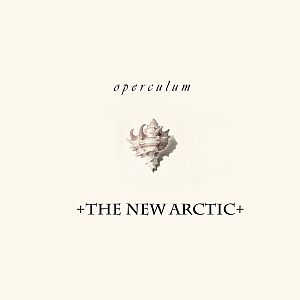 Artist: The New Arctic
Title: Operculum
Genre: Coldwave
Release Date: 28th November 2020
Label: self-released
Review Flash

California is not a place normally associated with Coldwave, but then these are strange times, and strange times breed creative anomalies. Which is good of course. Representing a work in progress, THE NEW ARCTIC is the solo project of Eleanor Marie, who's clearly spent the long, locked-away months of this bizarre year, experimenting with soundscapes and finding interesting paths through a foggy forest. In her own words, on 'Operculum', "you'll encounter some rocky terrain, unpolished stones and shells buried in the sand" and that's part of the delight here, to see the bare bones of what will undoubtedly continue to grow into something quite remarkable.
Musically, there's a fragile vulnerability running throughout these tracks, a melancholy that comes with introspection, illness, loss and isolation. But there is nothing self-pitying about it. 'End Of The Line' kicks off with a relentless beat, the vocals world-weary and knowing but far from defeated. There's a sense of gnawing, clawing claustrophobia here, and it continues on 'Barrengad', a dense, cloudy feeling of dread propelling you back to 'Faith'-era THE CURE or just about anything by LIFE'S DECAY. Desperately lonely piano and smoky, distant vocals give 'After The Fall' an Art-Deco romanticism, albeit one that's crumbling into nostalgic ruin, and if that sounds cheery, try losing yourself in the nightmarish 'L'Invitation Au Voyage'. Or let yourself drift away somewhere dark and grand and full of whispers and promises on 'Path Of Totality', before signing off with a spooky, jittery cover of DEPECHE MODE's 'To Have And To Hold'.
Conclusion: There's something truly special going on here, an iciness that exudes warmth, a melancholy that shuns morbidity, and a creative emergence that will be a joy to follow.
Rating: 8 / 10