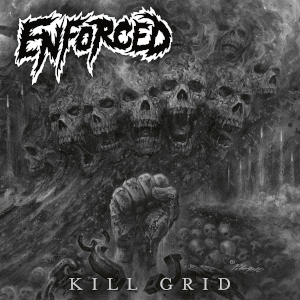 Artist: Enforced
Title: Kill Grid
Genre: Thrash Metal / Crossover
Release Date: 12th March 2021
Label: Century Media Records
Review Flash

I don't know much about Richmond, Virginia but something awful must have happened there before 2016 because in that year ENFORCED was formed and these guys are pissed like crazy. 'Kill Grid' is their second full-length output and man! This is Crossover Thrash bordering on Death Metal and I mean like: all the fucking time! The funny thing is that ENFORCED's sound is really top-notch but it also is bordering on being high quality noise every here and there. This output was mixed and mastered by the guy (Arthur Rizk) that brought you releases from POWERTRIP, CAVALERA CONSPIRACY and ETERNAL CHAMPION so yeah this sounds like a hellhound unleashed.
Knox Colby is either a very talented vocalist and interpreter of lyrics or he is possessed by an ancient evil beyond description (he sounds REALLY angry...). The duo that is responsible for riffing our collective faces off (Wagstaff and Monaghan) are quite capable of playing both ends of the metallic spectrum, hard as fuck and more on the melodic but still rough side of heavy music. Alex Bishop on drums is, of course, a beast and his partner-in-crime when it comes to rule through rhythm (bass boss Ethan Gensurowsky) is the genius in the background, often barely audible but every here and there ('Curtain Fire' for example) you can witness his skill. If you are one of the faint of heart kinda guys / girls this might be a challenge but if you like it a little rough around the edges you will thank me for leading the way.
Conclusion: For fans of POWERTRIP, IRON AGE or FORSAKEN.
Rating: 7 / 10