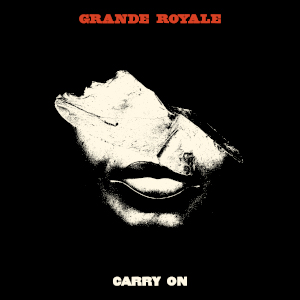 Artist: Grande Royale
Title: Carry On
Genre: Rock'n'Roll
Release Date: 26th March 2021
Label: The Sign Records
Review Flash

When it comes to Heavy Metal I, as many other writers and musicians, started with good old Classic Rock and Hard Rock music which of course got me curious of what else there is. Like my love for the heavier excrescences of Music, my love for Rock Music is like an undying flame that is impossible to extinguish. The guys in GRANDE ROYALE seem to know exactly what that feels like, their music expresses this understanding. GRANDE ROYALE was assembled in 2014, this year also saw their debit full-length 'Cygne Noir'. Aside from 2016 and 2020 every year since their debuting in the scene saw a full-length (Ok, 2018 just had a live output but it was an LP nevertheless). So, 2021 is a lucky year for us rockers because GRANDE ROYALE is back with 'Carry On'.
Sound-wise these guys are located somewhere between THE HELLACOPTERS, '77, DEAD LORD and ROBERT PEHRSSON'S HUMBUCKER dry as fuck, cocky, snotty Rock and Roll for young at heart troublemakers. Just like the mentioned big shots GRANDE ROYALE are fast and very skilled, they play energetic Rock music and they got riffs and riffs on end. So, if you are waiting for a new output of one of those mentioned these guys are a pretty good substitute drug to deflect you from waiting. It has to be mentioned that some bands we felt were just substitutes turned out to be a pretty good replacement of the real deal, if not better than some of them in the end.
Conclusion: If you like the general style of mostly Swedish retro Rock rowdies, you should check GRANDE ROYALE because they rock!
Rating: 8 / 10