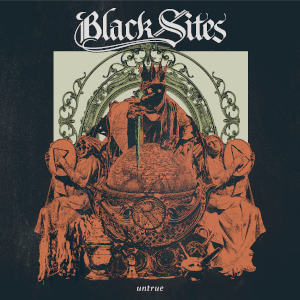 Artist: Black Sites
Title: Untrue
Genre: Progressive Metal
Release Date: 8th October 2021
Label: self-released
Review Flash

I had my fair share of progressive music in my day but as with Thrash and Doom: it never is enough! BLACK SITES was formed in 2015 (basically still a Prog baby) and the sound of these guys is quite unique to my ears. There is a massive amount of inspirations you will witness once the headphones shield your ears from any outside source of unworthy noise. There is old-school stuff to be heard between the many layers, stuff like MASTODON or THIN LIZZY but there is also a bit of SPOCK'S BEARD and some melodic pop punk hiding in this nice piece of well thought out music. BLACK SITES don't play Pop Punk but there is a feeling of effortlessness in songs like 'Sword Of Orion' or 'The Worst Of Us' that I get reminded of music that normally is far away from what these gentlemen here do. What I can detect, hear and feel is that producer Sanford Parker has a certain handwriting and I really like it, there is a similarity to the feeling of SPIRIT ADRIFT work (same producer duh…).
What I really do like the most about these guys sound is that they are progressive but either overblown nor pretentious, they simply play their songs a bit more complex than the normal heavy music bands. Which means more of the stuff we head-bangers usually love like: more riffs, more transitions, more bridges and even more highlights when it comes to the songs itself. We all know songs that are seven minutes long or longer but would be even better if they would just be three minutes long, well BLACK SITES compromise on songs that range between four and almost seven minutes but manage to make you think they are actually doing compact and rather short songs. The musicianship on 'Untrue' is, of course, really top notch. Mark Sugar is capable of dominating the scenery even with riffs provided by himself and Ryan Bruchert and Garry Naples is a drummer that really manages to hold the songs together without disappearing in the background.
Conclusion: If you never heard of BLACK SITES you should check them out right away, if there is one proggy bone in your body you will dig this.
Rating: 9 / 10