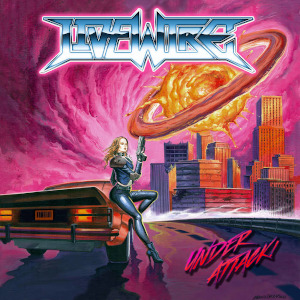 Artist: LïVEWïRE
Title: Under Attack!
Genre: Speed Metal / Thrash Metal
Release Date: 22nd April 2022
Label: self-released
Review Flash

LïVEWïRE is an Australian band with a sound that will surely polarize some gatekeepers in the metal scene, formed in 2019 they say that the music they play is Thrash / Speed but there are undertones of Traditional Metal and even bits and pieces of Power Metal to be detected in this mix. From the get go the first thing to hear is speed, sound-wise this is very melodic but the main factor is that these lads play fucking fast. There are moments when this band reminds me of STEELWING among other NWOTHM bands, the thrash factor ain't that heavy to be honest but the skills of every musician are up to eleven so I don't mind at all and as you all know I am a sucker for melodic metal and dope vocals so this is a win. Sometimes this is a bit on the odd side of things like MEGA COLOSSUS but that is just another band I dearly love so...
Conclusion: If you like your vocals soaring high and your shredgasms plenty you will dig the fuck out of this piece of heavy music.
Rating: 8 / 10