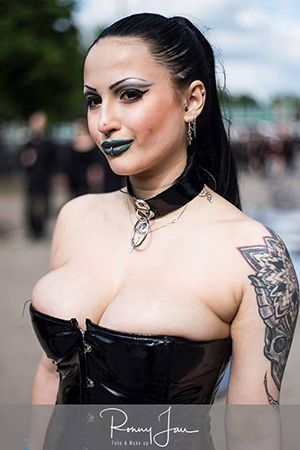 Finally, according to the weather, it is summer - the time of short skirts and showing décolleté. Our guest today, Nataly Nichil, has something to show to others; her tattoos evoke delight and enchant with their ideas and variety. The festival season has begun and I think it is a chance for you to see all this beauty live, if not on the stage with UNTERSCHICHT, then within the visitors' area...
Reflections of Darkness [RoD]
: When did you get your first tattoo and what was it? Did it take much time until you decided to get it done?
Nataly
:
I got my first tattoo when I was 20. Now I have a cover up there. That was kinda new school tattoo: the hand in roses was holding an origami crane. I always wanted to get inked but first of all I got to know several tattoo artists and then I started to tattoo my body
.
RoD
: How many tattoos do you have? Could you please tell us their story?
Nataly
:
Including my covered up tattoo I have 12 pictures on my body. They don't have a particular meaning for me but they show my aesthetic preferences.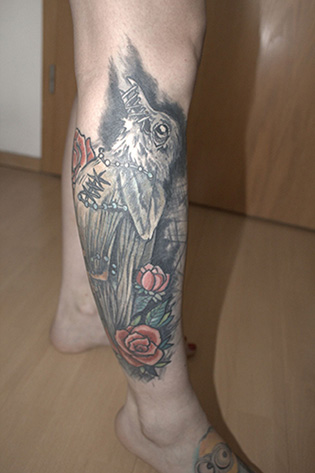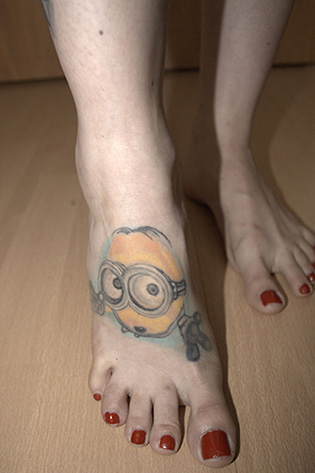 RoD
: Have you already got all the tattoos that you wanted or will you get some new ones in the future?
Nataly
:
I still have a lot of "clean" skin. Actually, not all my tattoos are already finished. In this case I'm still "in progress".
RoD
: Have all your tattoos been done by one tattoo artist or by different ones? How do you choose the tattoo artist? In addition, who draws your sketches?
Nataly
:
I had six tattoo artists. I'm particularly happy with the works done by Sajo Suriel (Berlin) and Marishka Mishka (Novosibirsk). These girls are great artists and true friends. If I found a tattoo in the internet it was personalised by my tattoo artist. I have never met a clone yet.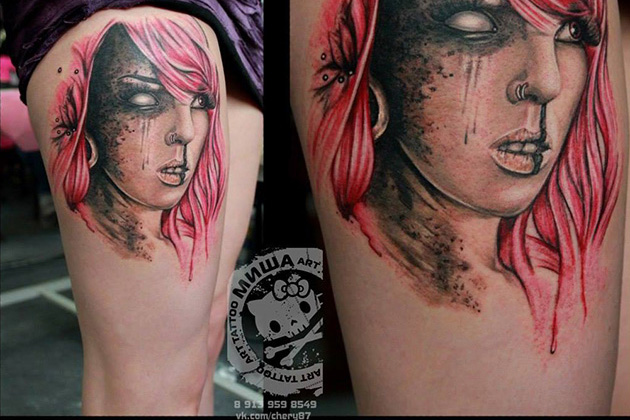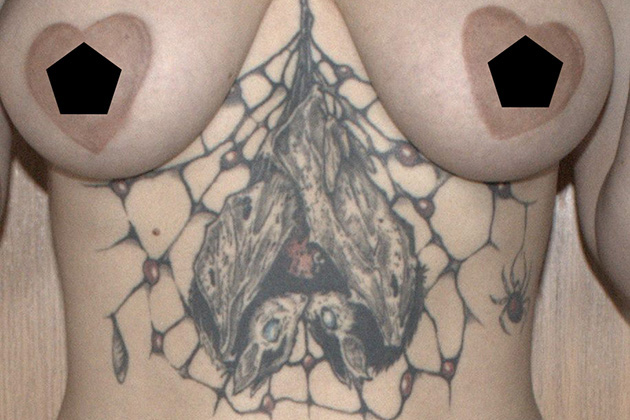 RoD
: Getting tattooed hurts, how do you cope with the pain during the sessions?
Nataly
:
I'm not a die-hard therefore I use an anaesthetic cream if possible.
RoD
: Do you regret getting tattooed sometimes?
Nataly
:
As I said my first tattoo wasn't the best but I don't regret it. The mistakes of my first artist lead to my friendship with Marishka. And now I have much better tattoos from her.
RoD
: What is your taboo in terms of tattoos? What kind of tattoo would you never get done and don't like to see on other people?
Nataly
:
My taboo is couple tattoos. Altogether I don't care what another people do. If they get shit it's their problem to deal with it.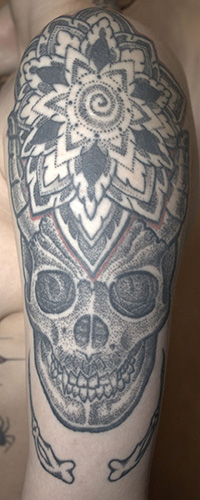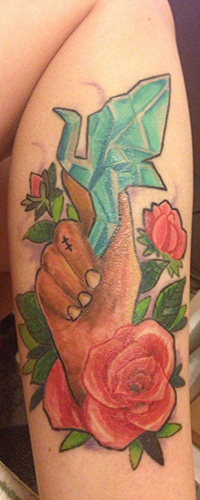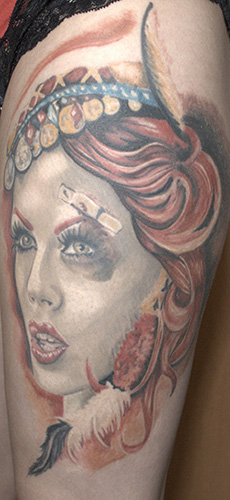 RoD
: Some people say that the drive to acquire body art is addictive while others say it fails to meet the true definition of an addiction, simply calling it a passion. Is it really impossible to stop?
Nataly
:
I must say I don't notice my body art most of the time. You get used to look this way. Maybe that's why after a while you want a new one.
RoD
: Currently, tattoos are a new trend; many people do not care about the meaning, they just want to have something coloured on the skin, to be in trend. Those people often just go into a tattoo salon and ask which drafts they have. Tattoo artists are not artists any more, they produce consumer goods. Not all of them, of course. How do you feel about this situation?
Nataly
:
The real art will be always easy to recognise in comparison to "must have" trends. The quality and originality of the motive speaks for itself.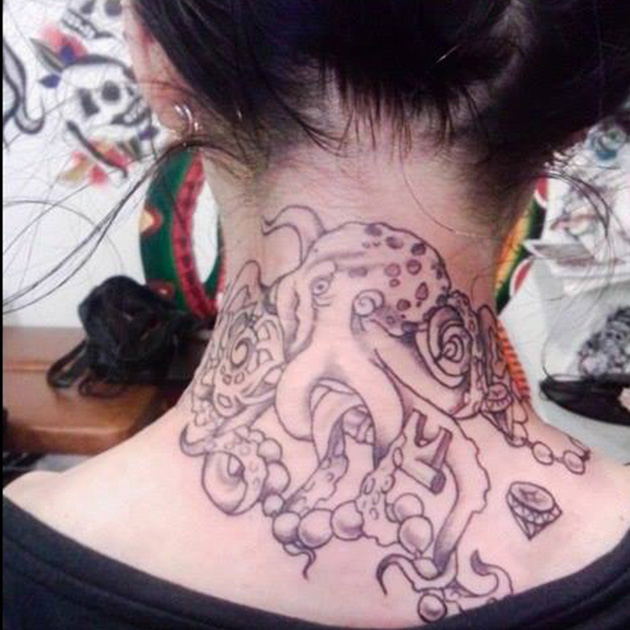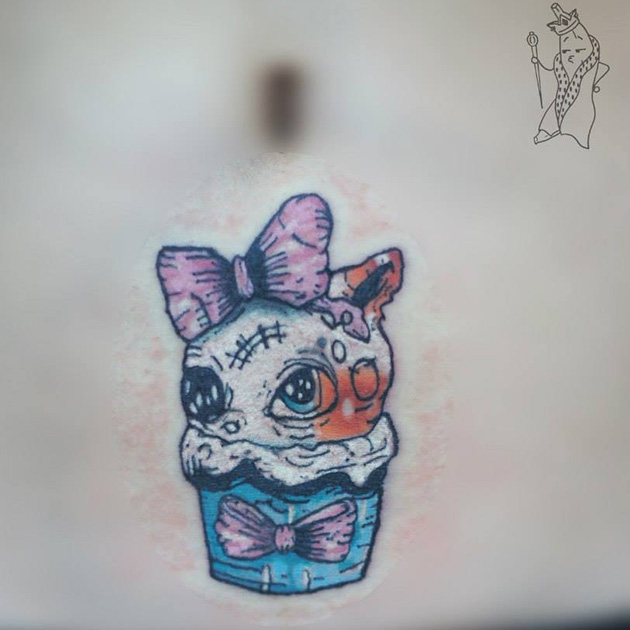 RoD
: I would like to talk about the social aspect of tattoos, too. Previously, many people believed that if you have a tattoo, you will be never be successful and will not find a "good" job. Have this state of mind and people's perceptions changed or are these prejudices still alive?
Nataly
:
It depends of the country: Russia is still more conservative and Germany is more relaxed. I sure I can always get a job I like. But I never planned to be a top manager if you know what I mean.
RoD
: Which advice would you give to people who are going to get their first tattoo? How to choose a tattoo artist? Colour or black and white? Any practical advice?
Nataly
:
My advice is: if you have inked friends let them help you, go to the tattoo convention to take a look how it works, don't be impulsive because to laser a bad tattoo is very painful. You should trust your tattoo artist because this person has your beauty and health in his or her hands. Take always care about your body art moisturise it and keep away from the sun. Good luck!
Project by Daria Tessa and Daniela Vorndran, Interview by Daria Tessa
Photos: Intro Photo: Ronny Jau, Article Photos: Sven Hegewald