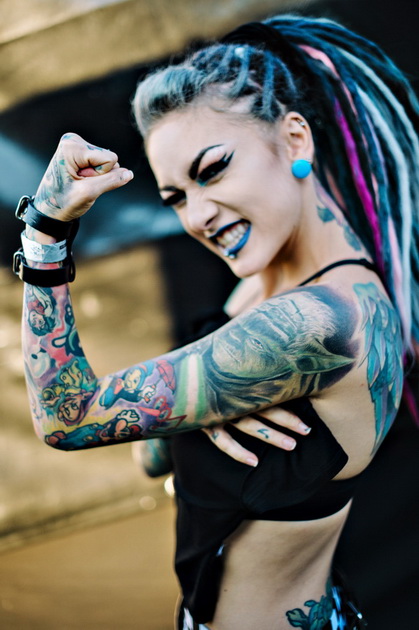 Today's heroine is the woman on vocals of the Nu-Metal band from Moldova, INFECTED RAIN, the charming Lena Scissorhands, with whom we managed to communicate in the framework of the Festival Faine Misto 2018 in Ternopyl.
Reflections of Darkness [RoD]
: I would like to ask a couple of questions about the festival first, since we are here at the Faine Misto. How do you like the atmosphere? You already played before in Ukraine?
Lena
:
Of course. In fact, we used to play much more often. Because we are neighbours and the first countries that we visited were Romania and Ukraine. Then they slowly began to invite us to Europe, and further and further. Sometimes they invite so far that you have to go just for days. But recently it happens that we visit a little less often, not only Ukraine, but also Russia, and near territories. It's not our fault, it just coincided, we are at the wheel, we work ourselves, and no one helps us. We do not make exceptions, we like to go and play everywhere. In fact, Ukraine has always treated us with an open mind and with a good heart. We are very pleased to play today on stage. It was awesome. I did not want to leave the stage!
RoD
: Yes, you really blew up the Dark Stage today! The public loves you very much and it is noticeable!
Lena
:
Thank you!!!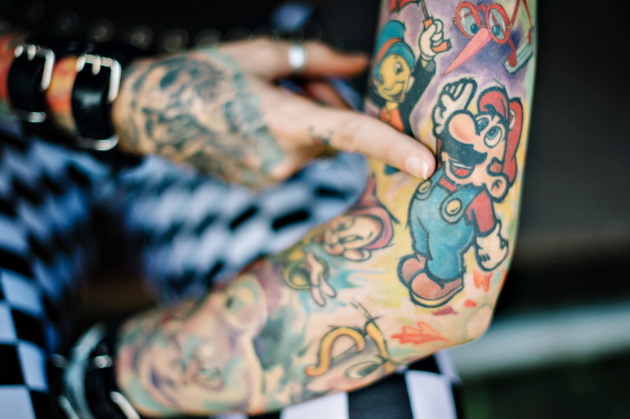 RoD
: Let's return to our tattoo project. I already told you a little about it when we communicated by e-mail. The purpose of our project is to show that a tattoo can also be an art. You woke up our interest because you have such bright tattoos. And in general, you have a bright image as well. Tell me, please, when did you get your first tattoo and what was it?
Lena
:
As a person, who wears tattoos herself, and loves and appreciates them, I want to say that yes, a tattoo is an art! This is so in the first place! And in the second place, the tattoo carries with it a certain semantic message. I made my first tattoo very early. I do not even remember at what age, but very early. It was a little angel on the forearm. At that time, it was exactly what I needed - a little guardian angel. Later he was covered by my wings, but the angel is still there with me.
RoD
: How many tattoos do you have?
Lena
:
When I am asking someone this question, I always find it difficult to answer. Because I think the body is one, and they simply connect with each other. This cannot already be called different tattoos. It's just like a picture. Therefore, I believe that I have one...
RoD
: You told me a bit about the background of the first tattoo with the angel. Are there any other stories related to your other tattoos?
Lena
:
Oh sure. About this you can talk for a very long time. Now I'll try to tell you a little. Here I have such a tattoo - there was such a cartoon, it was shown on the channel Cartoon Network, was called "Powerpuff Girls". I have two younger sisters, and we were very fanatical about this cartoon when we were little. And when we grew up, we decided to make tattoos with our own characters. We played this game as a child, and we saved the world. We were superheroes! And this tattoo means a lot to me. I have a lot of tattoos that are associated with cartoons or movies. I'm a big fan of many films and cartoons, and I see many characters in myself, or I can somehow connect myself to them. So I have Yoda from 'Star Wars', Super Mario is the first game I've played in, and a whole lot more. Also, tattoos with the band mean a lot to me. I have a tattoo on my stomach - this is the cover of our second album. Also there is a tattoo - the name of our third album. I do not know if this will continue. Because I still have "Love Rain", this is the very first tattoo in honour of the band. All that is on the fingers and on the ear, it's all about music. I've been doing a lot of music, for me it's like my child. I invest in it a lot of energy, time, money, emotions, and nerves. As well as other members of our band. So our listeners can listen and feel it.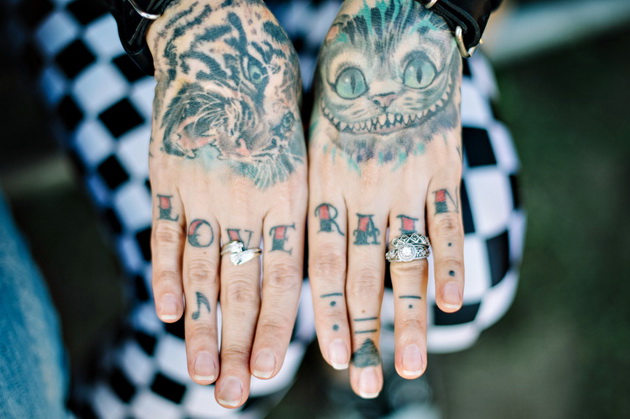 RoD
: Did you already get all the tattoos that you wanted, or do you plan to get some new ones in the future?
Lena
:
There will be more! Required!
RoD
: Do not share with us, what will it be? Or is it a secret?
Lena
:
A secret! =)
RoD
: Getting tattooed hurts. How do you cope with the pain during the sessions?
Lena
:
Many believe that those people, who make themselves a tattoo, like pain. But this is not true. I really do not like pain, both emotional and physical. But when you go through the pain of a tattoo, it's worth it. Because it stays with you for life, this is again an art. It's worth it. You can divide the tattoo for several hours, for sessions. I always try to cooperate with tattoo artists who are very close to me in spirit. I'm easy with them and even if it hurts, I'm not embarrassed.
RoD
: Did you get all your tattoos done by the same tattoo artist or by different ones?
Lena
:
Yes, they are different. Usually the same master did me some tattoos, but the masters are different.
RoD
: Do you think there are any taboos when it comes to tattoos? What image would you never get yourself and what don't you like seeing on other people?
Lena
:
Yes, probably there is. I think I'm a supporter of that, that face should stay more or less pure. Because the face is like a mirror of our soul. It conveys our emotions, and if we hide them with tattoos, it's wrong. I do not blame people who make tattoos on their faces. I have many people familiar with tattoos on my face. They are wonderful people, but something pushes them on to make tattoos on their faces. Probably, only this is taboo. If you want to do tattoos of lines that do not mean anything, do it, it's up to you, decorate your body, as you want it. I see no reason why not.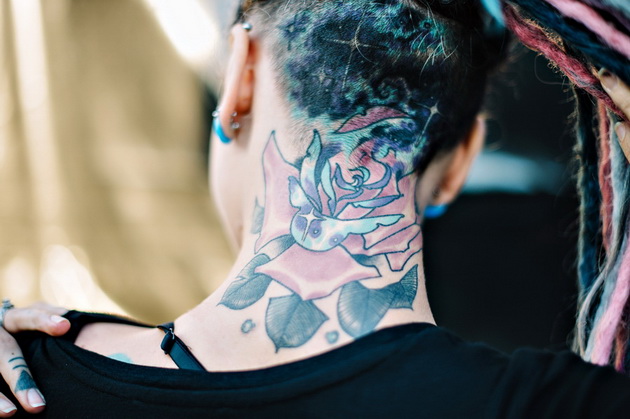 RoD
: Some people say that the drive to acquire new body art is addictive while others say that it fails to meet the true definition of addiction, simply calling it passion. Is it really impossible to stop?
Lena
:
Sometimes yes, sometimes no. Person, when he makes himself the first tattoo, he knows what he likes, and he wants more. There are people who make themselves only one tattoo in honour of one thing and stop there. This may be due to some kind of tragedy or with family moments, friendship or love. But nevertheless 90% of people who start to make themselves tattoos, they know that they will fill themselves yet.
RoD
: Tattoos have become a fashion trend; many people do not care about the meaning behind them, they just want to have something colourful on their skin, to be trendy. Those people often just go to a tattoo salon and ask them to show which drafts they have. Tattoo artists are not artists any more, they are kind of like production line workers now. Not all of them, of course. How do you feel about this?
Lena
:
Unfortunately, sooner or later, everything in the world becomes part of the trend, part of fashion. And, indeed, there are people who do not make much sense in tattoos, they just want to be on the wave with everyone, look cool and bright. But again, I do not think there is anything wrong with this. I do not blame anyone. But tattoos mean a lot to me. I'm sure it's too early or too late for people to find any sense in this. And they do not just do it.
RoD
: I would also like to talk about the social aspect of tattoos. Back in the day, many people believed that if you had a tattoo, you would never be successful and would not find a "good" job. Has this mind-set and people's perception changed or do these prejudices still exist?
Lena
:
I believe that this is only in the post-Soviet space. Because in my life I lived in four different countries with different cultures and different languages. And to be honest, I did not see anything like that there. Europe and America are more open about this. There are doctors, policemen, customs officers, traffic cops, who can see that there are a lot of tattoos. It does not make you a bad person. It's the opposite that makes you open.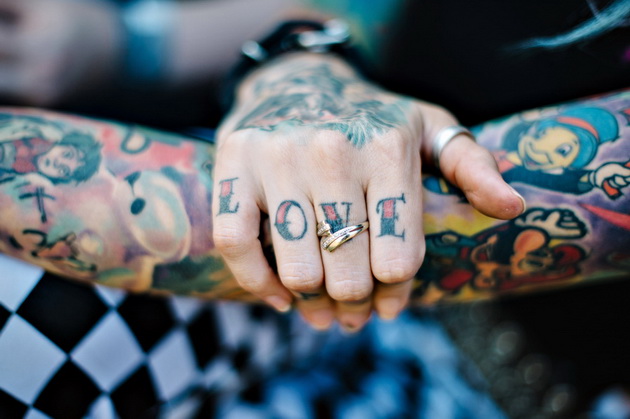 RoD
: What advice would you give to the people who are going to get their first tattoo? How should they choose a tattoo artist? Should they get it done in colour or in black and white? Can you give any practical advice?
Lena
: If you want to do, do it. Live life now! Do whatever you want, this is your body. Although, of course, think twice about it. Consult, be sure to go to good masters. Do not spare money or time to choose a good master.
Project by Daria Tessa and Daniela Vorndran, Interview by Daria Tessa & Iryna Kalenska
Photographer: Kateryna Lashchykova