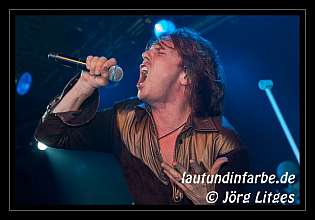 Matrix, Bochum, Germany
10th November 2012
Europe & Stone Rider

Half a year after the release of 'Bag Of Bones', EUROPE came to Germany to present the album live. "It should become a very original, classical rock record", says EUROPE. The reason: They "have grown up with Led zeppelin, Deep Purple, UFO, Thin Lizzy and similar acts", explains the band's front man Joey Tempest. To reach such a sound they laid the songs in the hands of Kevin Shirley. EUROPE never sounded better said Eclipsed. Hard Rock with blues elements and top class acoustic guitars. Joey Tempest voice is better than ever. Europe are regular visitors in Bochum as headliner or as opener for GOTTHARD for example. The Matrix was full of people who couldn't wait to rock the night.



Stone Rider

After failing to take over the world with their rather unconvincing brand of metallic hardcore when they were called FIGHT PARIS, ATLANTA, GA, residents Matt Tanner (vocals/guitar), Neil Warren (guitar), Champ Champagne (bass), and Jason Krutzky (drums) became born-again Southern hard rockers under the more appropriate billing of STONE RIDER. The quartet did hang onto their recording contract, however, which explains the release of their 2008 debut, 'Three Legs of Trouble', through hardcore haven Trustkill Records - despite its evident and unashamed stylistic debt to classic hard rock staples such as LYNYRD SKYNYRD, ZZ TOP, BLACKFOOT, and a pinch of influences from further afield like AC/DC, NAZARETH, and FREE. http://www.stoneriderband.com / www.myspace.com/stoneriderband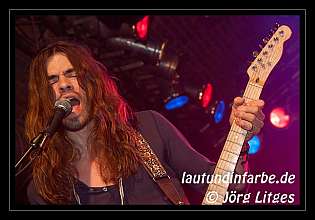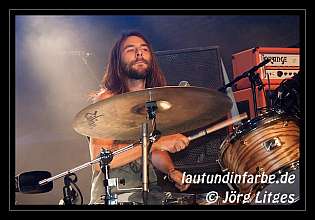 Music & Performance
Before EUROPE were up to start their show, in the meantime we just got a three man band for the warm up. They played great six songs of good old rock with some fabulous guitar solos which you don't hear so often anymore these days. Two of the songs were 'Rush Hour, Baby' and 'Wild Child'. STONE RIDER's music has a lot influences of the 60ies or 70ies, a little bit of LED ZEPPELIN and JIMMY HENDRIX. Very interesting sound and it could have been a bit longer than half an hour.

Rating
Music: 8
Performance: 8
Sound: 7
Light: 6
Total: 7.5 / 10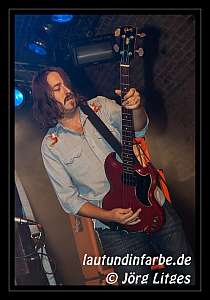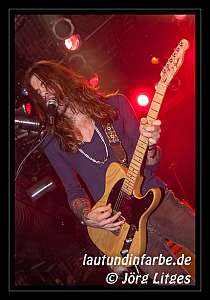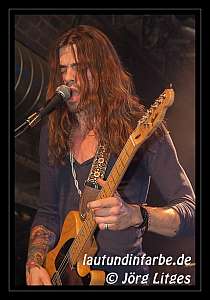 Europe

EUROPE is a Swedish rock band formed in Upplands Väsby in 1979 under the name FORCE by vocalist Joey Tempest, guitarist John Norum, bassist Peter Olsson and drummer Tony Reno. Since its formation, EUROPE has released nine studio albums, three live albums, three compilations and nineteen videos. EUROPE rose to international fame in the 1980s with its third album 'The Final Countdown' (1986), which became a substantial commercial success and sold over three million copies in the United States. EUROPE was one of the most successful rock acts of the 1980s and sold over 20 million albums worldwide. The band has achieved two top 20 albums on the Billboard 200 chart ('The Final Countdown' and 'Out of This World') and two top 10 singles on the Billboard Hot 100 chart ('The Final Countdown' and 'Carrie').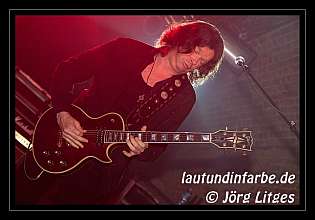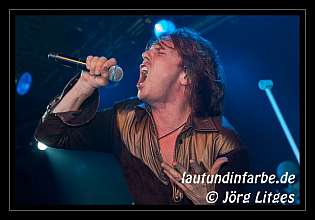 EUROPE split up in 1992, reunited temporarily for a one-off performance in Stockholm on New Year's Eve 1999 and announced an official reunion in 2003. Since then the band has released four albums, 'Start from the Dark' (2004), 'Secret Society' (2006), 'Last Look at Eden' (2009) and 'Bag of Bones' on April 18, 2012. www.europetheband.com / http://www.myspace.com/europe

Music & Performance
The beast is alive again and still kicking ass. The mood in the Matrix couldn't have been better. So the guys were welcomed with open arms when they started their set with 'Riches To Rags' from the new album 'Bag Of Bones'. The first nice surprise came with 'Superstitious'. In the middle of the song, Joey started to sing lines of Herbert Grönemeyer's song 'Bochum' which is dedicated to the town and I have to mention that Joey sang it in German! After this he asked in quiet good German: "Hey Ruhrpott was geht ab?!" (Translation: What's going on? --Ruhrpott is the area called where Bochum is situated). For him the audience and the evening was simply hammergeil (amazing)! Joey called the Matrix the brick house because of its walls.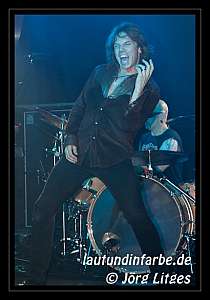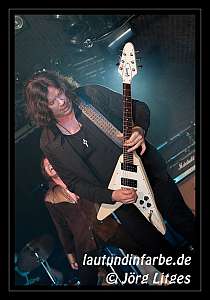 The acoustic part began with John Norum not only on guitar also on main vocals with 'The World Keep On Turning'. After that also Ian and Mic came to the front of the stage to join the acoustic set. Another two songs with 'Drink And A Smile' and the wonderful 'Open Your Heart' followed and after that they started to rock again. The crowd was singing along and especially during the big hit ballad 'Carrie' no one kept calm. The highlight was 'Rock The Night' which was just a given and taken between band and audience. While they played the song they change it into WHITE STRIPES' 'Seven Nation Army', SCORPIONS' 'Rock you like a hurricane', QUEEN's 'Another One Bites The Dust' and James Brown's 'Sexmachine'. The show ended with the one song which can't be missed and started the career, 'The Final Countdown'. To cut a long story short I can describe this evening with one of Joey's words: Hammergeil!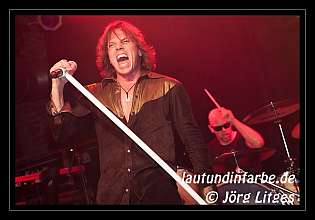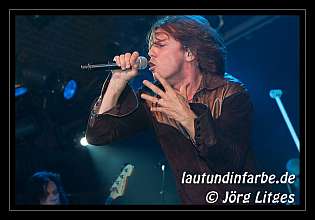 Setlist
01. Riches To Rags
02. Not Supposed To Sing The Blues
03. Firebox
04. Superstitious
05. Scream Of Anger
06. New Love In Town
07. Demon Head
--Acoustic Part--
08. The World Keep On Turning (Fleetwood Mac Cover)
09. Drink And A Smile
10.Open your Heart
--- End Acoustic Part--
11. Bag Of Bones
12. Girl From Lebanon
13. Carrie
14. The Beast
15. Doghouse
16. Sign Of The Times
17. Rock The Night
---
18. Last Look At Eden
19. The Final Countdown

Rating
Music: 10
Performance: 9
Sound: 8
Light: 5
Total: 8.5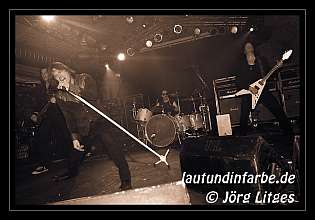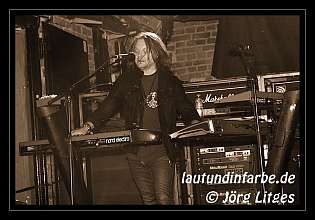 All Pictures by Jörg Litges (www.lautundinfarbe.de)



See also (all categories):