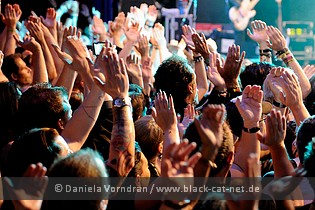 Zeche, Bochum, Germany
15th June 2015
Ace Frehley & Rebelstar

Just two weeks ago I had seen KISS playing at Rock im Revier and now, KISS old-hand Ace Frehley played two exclusive German shows, one of them last Monday in Bochum's Zeche. When I arrived, a long queue already waited in front of the venue and later on, the Zeche was totally packed, especially when the Meet & Greet with 50 people was finally over. The evening was opened from Dutch REBELSTAR.
Rebelstar

Dutch band REBELSTAR is delivering old-school Hard Rock with influences of today's Rock and Metal. The debut album 'Permanent Disaster' was out in 2010. In the following time, the band shared stages with bands like KING'S X (USA), HELLOWEEN (DE) and VICIOUS RUMOURS (USA) and was playing on the prestigious Masters of Rock festival (CZ). In summer 2013, after recruiting a new pounding rhythm section and with renewed inspiration, they had only one goal: going back to the recording studios to top their debut album. The album 'II' was out in November 2013 and got great reviews. The current years sees the band back on road again and working on their third album to be released end of the year. REBELSTAR is Serge Naberman (lead vocals / guitar), Martijn Niggebrugge (guitar / backing vocals), Bart 'Dus' Pellinkhof (bass / backing vocals) and Richard van Leeuwen (drums / backing vocals).
http://www.rebelstar.nl
/
https://www.facebook.com/rebelstar.rock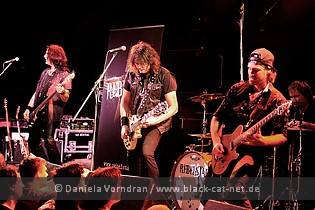 Music & Performance

There were rumours that the show would not start before 8:30. But when it was eight, the Dutch band REBELSTAR already entered the stage to present 45 minutes of their catchy Hard Rock. Their songs are great melodic rock with heavy and catchy guitar riffs and solid vocal harmonies. Even though the songs were pretty good, their performance itself lacked a little of typical Hard Rock action. There was not much moving, not much posing. Maybe this was due to the reduced space on stage since the stage behind was already set for Ace? Anyway people in the venue soon joined in the clapping and warmed up for what's to come. All in all this was a solid show and a well-chosen support.
Rating

Music: 8
Performance: 6
Sound: 7
Light: 7
Total: 7 / 10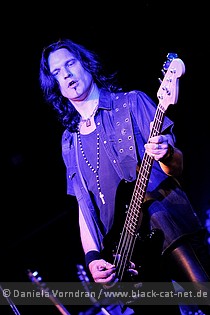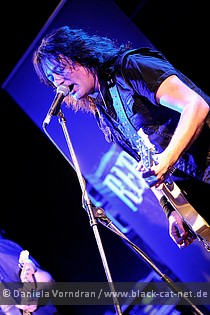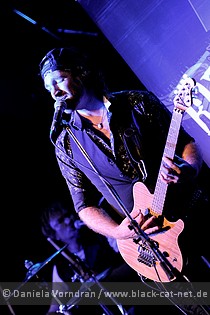 Ace Frehley

Ace Frehley replied with 22 to an ad which was looking for a guitarist. It turned out quickly that he fitted well with Gene Simmons, Paul Stanley and Peter Criss and thus, KISS came into being. They started off small but the success didn't wait for long. They filled the Madison Square Garden three nights in a row. Their work ethic was astounding and made KISS one of the most successful bands. Ace Frehley has become to one of the most influential guitarist of the last four decades because of his landmark work with KISS and as a solo artist, his impact on pop music is immeasurable. In a band that hasn't become popular because of its instrumental plays, he was awarded by critics and audiences for his fulfilled musical skills since he is able to fire rockets out of his guitar, make the people go crazy with his smoking guitar effect or impress with his 6 string guitar play. In 1978, KISS decided that everyone would release a solo record. The record by the legendary Ace Frehley sold the best by far. In 1987, Ace Frehley harvests his first creative fruit with his new band FREHLEY'S COMET and the same-titled debut record. It was a beautiful feeling for him now to stand solo on stage but also a quite frightening one. FREHLEY'S COMET had great line-ups, they produced fantastic music and they were an extraordinary live band. In 1996, KISS confirmed their great reunion and they performed for five years sold-out show and performances like the super bowl and the Olympic games.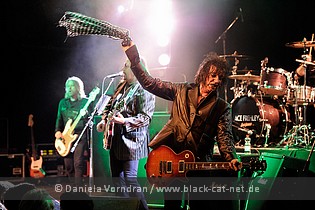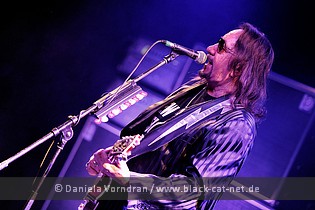 In 2009, Ace Frehley released his new solo record 'Anomaly', it was THE record. It had the highest entrance in the charts after his first solo record in 1978. His newest record 'Space Invader' was released in summer last year which reminded of his debut in 1978 but became at the same time the most successful release of a solo record of any KISS member so far. On Stage, he was supported by Chris Wyse on bass & vocals, Richie Scarlet on guitar and Scot Coogan on drums.
http://www.acefrehley.com
/
https://www.facebook.com/officialacefrehley
Music & Performance

It was around 8:45 when the support act ended and so we thought, Ace and his band would enter the stage latest at 9:30. But no… we were waiting… and waiting. It turned out that the planned Meet & Greet of fans who paid around 300 dollar for the special VIP tickets did not start around eight, but one hour later. And due to that, also the show started much later than announced. Finally short before 10:00, Ace and his high class band entered the stage. And this band really deserves a closer look since Ace Frehley gathered some high-class musicians around him. First we have Richie Scarlet on guitar who toured with Ace already in 1984 and 1985 and periodically from 1989 through 1995. Now York based Chris Wyse joined the band on Bass and vocals. He was recording already with such well-known artists as Ozzy Osbourne or Mick Jagger. Besides he is well-known as the bass player from THE CULT since 2006. And finally there is Scot Coogan on drums. Coogan played with Frehley for five years until 2012 already and afterwards toured i.e. with LYNCH MOB or LITA FORD.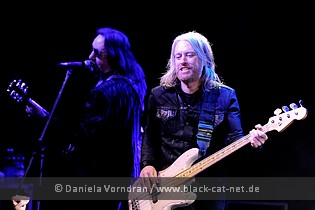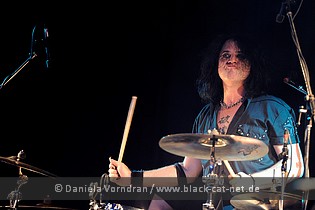 Despite the delay, guitar legend ACE FREHLEY and his companions took care for a really good evening in Bochum especially satisfying the long-time KISS fans. The setlist contained lots of KISS songs, alternating with his solo work. Besides, there was also a ROLLING STONES cover included. Even though Ace's vocals are not really great, he convinced with his extraordinary guitar play and a lot of joy in playing.
Setlist

01. Intro: Fractured Mirror
02. Rocket Ride (KISS song)
03. Gimme a Feelin'
04. Toys
05. Parasite (KISS song)
06. Love Gun (KISS song)
07. Breakout
08. Space Invader
09. 2000 Man (The Rolling Stones cover)
10. Snowblind
11. Rock Soldiers + Bass Solo
12. Strange Ways (KISS song)
13. New York Groove (Hello cover)
14. 2 Young 2 Die
15. Shock Me (KISS song) + Ace Frehley Guitar Solo
16. Cold Gin (KISS song)
17. Rip It Out
---
18. Detroit Rock City (KISS song)
19. Deuce (KISS song)
Rating

Music: 8
Performance: 9
Sound: 7
Light: 8
Total: 8 / 10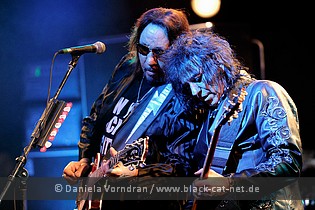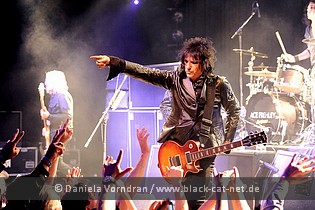 All pictures by Daniela Vorndran (
http://www.vorndranphotography.com
/
http://www.facebook.com/blackcatnet
)