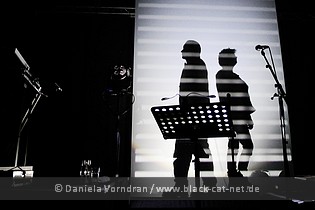 Lindenpark, Potsdam, Germany
24th March 2016
Anne Clark & herrB – Wasted Wonderland Tour

After over 30 years of diverse music and lyrical spoken words, it's time to say good bye: ANNE CLARK's "Wasted Wonderland European Tour" in March/ April is the English poet, songwriter, and electronic musician's final tour! On March 24th, ANNE was making her farewells at a unique show at the Lindenpark in Potsdam, Germany.
ANNE was accompanied by German musician and producer HERR B. Both have been collaborating since 2013. On their musical journey they're combining timeless, poetic lyrics with danceable electro beats. After the release of the EPs 'Fairytales from the Underground' and 'Life Wires', they're now hitting the trail through a "Wasted Wonderland".
http://anneclarkofficial.com
/
https://www.facebook.com/anne.clark.music
/
https://www.facebook.com/herrBmusicOfficial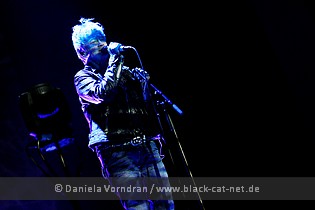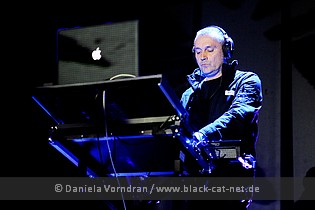 Music & Performance

This was the last goodbye. "Thank you, simply thank you!". About 800 visitors celebrated ANNE CLARK and HERR B at Lindenpark in Potsdam. ANNE CLARK wants to withdraw from the music business after 30 years in order to have time for other, creative things. Thus, her "Wasted Wonderland Tour", which she is doing with her genius musical partner HERR B, is her goodbye tour. Yes, there will be individual shows or festival performances – but no tour for an indefinite time. And then we're standing there. It's 8 pm. Hundreds of people are inhabiting the venue in Potsdam's Lindenpark. We came to see Anne once again in the framework of a longer tour. To delve in memories again, to thank for the many years of keeping company in our lives. Because we realised at the beginning/ middle of the 80s that we like exactly that: this peculiar, melodious parlando, this poetry accompanying this fascinating, cold-synthetic, experimental, once driven, once calm-atmospheric music.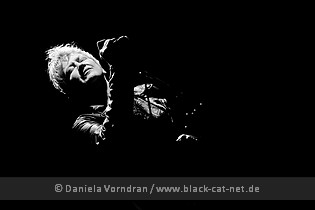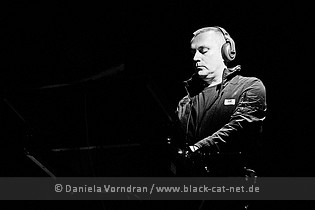 Sometimes we might have felt like the hunted because we were individualistic. ('Wallies') Because we were different. Or we were "doubting all the time, fearing all the time, that like these urban nightmares, we'd blacken each other skies" ('Our Darkness'). Critical thoughts, depth, the search for "more" were and are still not alien to us. Until today. It's the 24th March 2016, 8.12pm. Sound collages are wafting out of the boxes, video animations are flickering over the stage. The middle canvas lightens up in a bright white suddenly. ANNE CLARK and HERR B are visibly posing as shadow contours, back to back. The crowd is chanting. And they are chanting all the time this evening. After every song the applause flares up. Tumultuously. A musical journey through many epochs of her work are intonated: the quite recent 'Darkest Hour' (off the 2013 EP 'Fairytales from the Underground'), classics like 'Now', 'Wallies' and 'Counter Act' or calm pieces like the very early 'The Sitting Room' and 'Psalm' off the record 'The smallest acts of kindness'. HERR B leaves his synth-sequencer-station for the latter two and takes up the guitar. Every song is accompanied by background videos, a mind-blowing concept.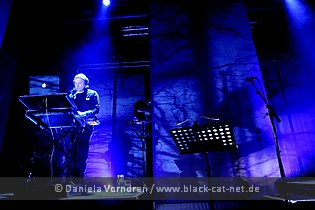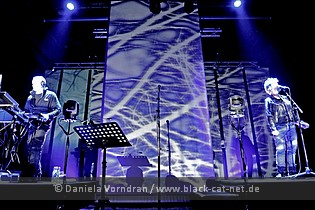 Yes – the songs sound differently, modern, more technoid, not like before. The crowd likes it. They want more after about one and a half hours. There are two encores. And then we hear 'Sleeper in Metropolis' and 'Our Darkness', a lot of bass. We dance and clap according to the beat. After that it's over. The lights are turned on again in the venue. After the show, at the merchandise, a visitor, with tears in his eyes, presents Anne with flowers. He says:
"30 years of my life have passed me by this evening. Thank you. Just thank you."
Setlist

01. Orange Sun
02. Darkest Hour
03. Hope Road
04. Form
05. Counter Act
06. The Power Game
07. The Sitting Room
08. Psalm
09. Whisper of Shells
10. Now
11. Wallies
12. Eye of a Wolf
13. Heaven
14. Full Moon
15. Meine fremde Seele
16. When You Think Your Time Has Come
17. Boy Racing
---
18. Abuse
19. Sleeper in Metropolis
---
20. Our Darkness
Rating

Music: 9
Performance: 9
Sound: 8
Light: 8
Total: 8.5 / 10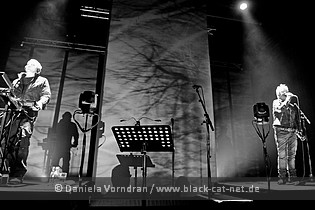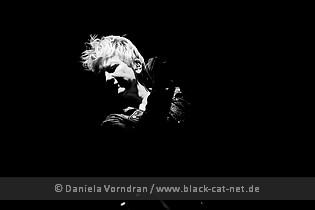 Written by Sven Wendelmuth & Daniela Vorndran, Translation by Alex UltraRiot
All pictures by Daniela Vorndran (
http://www.vorndranphotography.com
/
http://www.facebook.com/blackcatnet
)