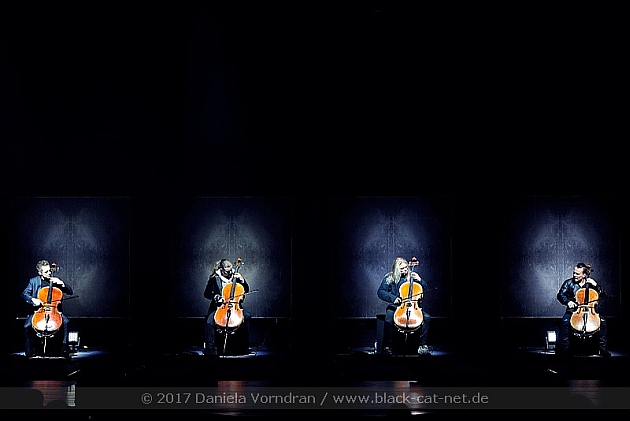 Colosseum, Essen, Germany
22nd February 2017
Apocalyptica "Plays Metallica By Four Cellos"

APOCALYPTICA rocked the Colosseum Theater in Essen on the 22nd February 2017 taking us to a journey to their amazing beginning. On 10th May 1996, APOCALYPTICA released their debut album 'Plays Metallica By Four Cellos'. It features eight instrumental METALLICA covers arranged and played on cellos. The band was invited to record this album by a label employee after a 1995 show in which they performed some of the songs. The members were initially unsure and thought nobody would listen to such a record, but the employee insisted and they recorded it.
Twenty years and eight albums later, they re-released it. The remastered album comes with three bonus tracks. From APOCALYPTICA's own writing "Now that our debut album is all grown up & old enough to drink, what better way to celebrate its anniversary, than to take it back on the road next year for all our loyal fans to see!!" For those who still don't know them, APOCALYPTICA is a Finnish cello metal band from Helsinki formed in 1993. They are classically trained cellists Eicca Toppinen, Paavo Lötjönen, Perttu Kivilaakso and Antero Manninen (all four of whom are graduates of the Sibelius Academy in Helsinki) and drummer Mikko Sirén. Originally a METALLICA classical tribute band, the band eventually adopted a neoclassical metal style without the use of conventional guitars. They have sold over four million albums to date.
http://www.apocalyptica.com
/
https://www.facebook.com/Apocalyptica/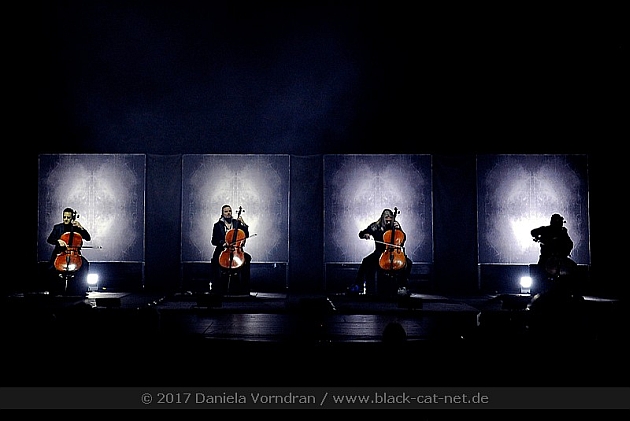 Music & Performance

Let's start with the venue. The Colosseum is a brick building built in 1900 and 1901 on the eastern edge of the former Essen Krupp Gussstahl factory as a three-aisled industrial hall. At that time it was called the 8th mechanical workshop and was the workplace of around 2,000 people who produced locomotive frames and crankshafts for ships. Since 1994 the building passed through several renovations preserving its industrial style until becoming the beautiful Colosseum Theater it is now. Lights went out at eight and four squared panels were illuminated by spotlights. The four cellists came on stage on a big applause. As expected, 'Enter Sandman' was the opening song followed by and introduction by Eicca Toppinen: "On the first half of the concert we'll play the album 'Apocalyptica Plays Metallica By Four Cellos' as it was recorded. This evening we'll only play METALLICA and, as you know, it will be instrumental. Therefore the voice is gonna be you. Are you ready to be loud?" Their line-up, lighting and visual concept on stage is at the same time Metal, Gothic, Middle age and, in a way, futuristic. Eicca Toppinen: "When we recorded this album we hadn't other expectations but just to sell a few copies. The story turned different and here we are thanks to you."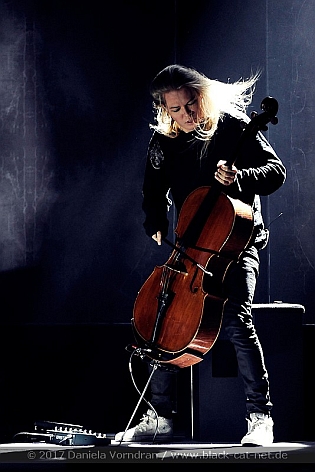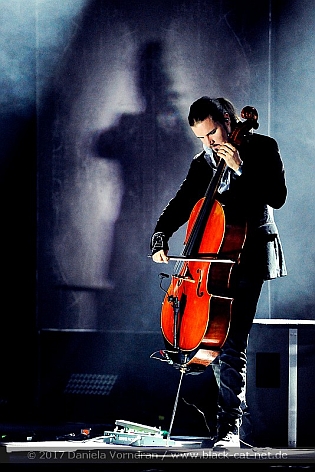 Hearing that historical album, played live, song after song so beautifully arranged and powerfully played was the fulfilment of everyone's expectations. Eicca Toppinen: "We recorded this album 21 years ago. There are some of those songs we haven't played in last 15 years. Since 1996 we have recorded 8 albums. Six of them are of our own composition. If you didn't know that, go and listen to them. There is some good shit in there." The last song of the album so as the last one of the first part of the concert was 'Welcome Home' followed by a 20 minute break. During the break, the stage was arranged placing a drum set at the centre leaving the space at the front for the four cellists. The band came back on stage and began the second part of the show with 'Fade to Black'. As the tension of the song increased, drummer Mikko Sirén came on and took over the drums. It was amazing to see how brutal those songs can be even when played with cellos. Highlights of the second half were those songs that everybody came to see. 'For Whom the Bell Tolls' and 'Until It Sleeps' received the wildest reaction from the pit. 'Escape' was a surprise as it's a song which was never played live by METALLICA neither by APOCALYPTICA. The band came out for an encore with two highly expected songs 'Nothing else matters' and 'One' before they finally left their fans cheering and smiling.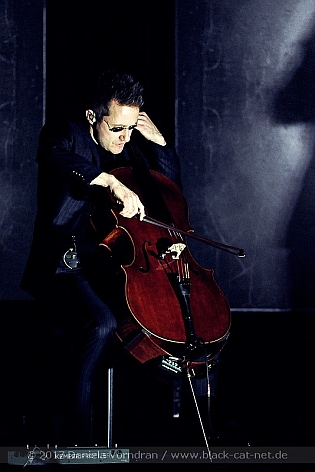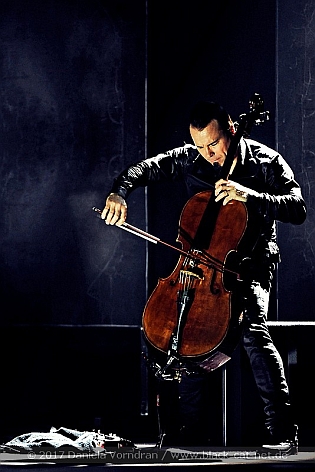 This is truly a one of a kind, unique experience. How often do you see a band of cellists banging their heads reminiscent of Cliff Burton's live performances with METALLICA? APOCALYPTICA had just shown that there are one of the energetic and certainly the most unique band in the metal circuit.
Setlist

01. Enter Sandman
02. Master of Puppets
03. Harvester of Sorrow
04. The Unforgiven
05. Sad But True
06. Creeping Death
07. Wherever I May Roam
08. Welcome Home (Sanitarium)
---break---
09. Fade to Black
10. For Whom the Bell Tolls
11. Fight Fire with Fire
12. Until It Sleeps
13. Orion
14. Escape
15. Battery
16. Seek and Destroy
---
17. Nothing Else Matters
18. One
Rating

Music: 9
Performance: 10
Sound: 9
Light: 9
Total: 9.3 / 10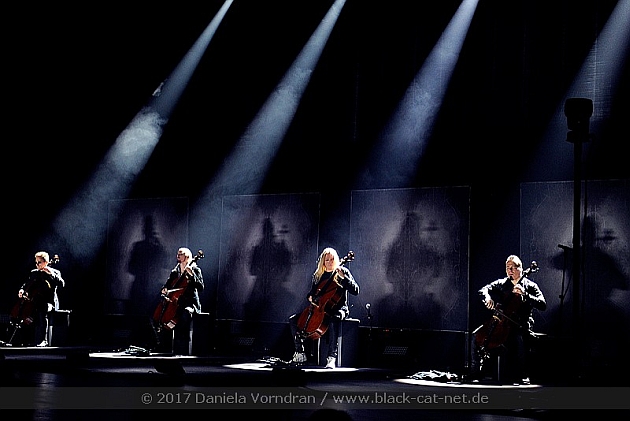 All pictures by Daniela Vorndran (
http://www.vorndranphotography.com
/
http://www.facebook.com/blackcatnet
)