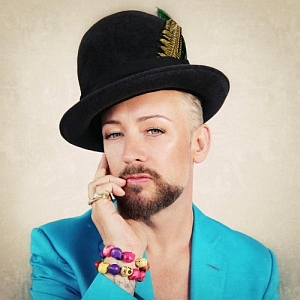 Artist: Boy George
Title: This Is What I Do
Genre: Pop
Release date: 24th January 2014
Label: Very me Records
Album Review

Boy George... a legend in the history of pop. Unfortunately over the years it was more about his various excesses that we were used to hear from him, despite some recent releases that went unnoticed (2006's 'Yum Yum' released under the name THE TWIN and 2010's 'Ordinary Alien'). He recently appeared on HEAVEN 17's solo project of Martyn Ware, 'British Electronic Foundation', for two tracks including the surprising cover of IGGY POP's 'I Wanna Be Your Dog' and in 2010, he appeared on Mark Ronson's 'Somebody To Love Me'. So? What to expect from a Boy George album in 2014? Before listening to it, I was just hoping for a bunch of good pop songs well produced, so here we go...
First song, and also first single taken from the album, is a pure British pop song a la Robbie Williams that does very well on British radios at the moment. Boy George is singing it with a lot of fragility and emotion. Obviously, even though we can feel the excess of time, the voice is still there. 'Bigger than war' feels more soul/ blues/ gospel and suits well to George's tone and the theme of song ("Love is bigger than war") sounds like a reminder of CULTURE CLUB's 'War Song'. 'Live Your Life' is a return to reggae roots. 'My God' pursue with a gospel feel mixed to, once again, pure Robbie Williams alike pop song. Seems at this stage of the album that George found a comfortable vocal range. Lower than in his glorious times but still capable of touching high notes
'It's Easy' is a pleasant folk ballad, but just like the previous songs, still no big melody that would strike you instantly. The album is nice to hear, but something's missing. 'Death Of Samantha' and 'Andy Road' follow still on mid tempo while the five last songs go back to reggae/ ragga and I must confess I was bit bored and he lost me there. To conclude? Well, sadly, this album will not stay in memories (at least in mine). I had forgotten almost all of the album an hour after, which is quite sad to be honest as I would have love to give it at least a eight. It's very well produced, we can feel George is in a much better place in his life, there's no "bad" song as such... it's just missing the sparkle and it gets very boring toward the end.
It just proves that it's not because you actually want to do a good album that inspiration will be there to compose some good songs. I'm not the kind of "solo albums sucks, singer should stay in their band" guy... but after decades, it's very clear that the talent of Boy George has never been so well used and obvious that when he sung with CULTURE CLUB (apart from his fabulous and cult 1991's 'Martyr Mantras'). Their comeback album of 1999 was a clear statement of that. The good thing is: this album shows that Boy George, since his 2008 decision of changing his life and forget about excesses, is definitely in good shape.
Tracklist

01. King Of Everything
02. Bigger Than War
03. Live Your Life
04. My God
05. It's Easy
06. Death Of Samantha
07. Any Road
08. My Star
09. Love And Danger
10. Nice And Slow
11. Play me
12. Feel The Vibration
Line-up

Boy George
Website

http://www.boygeorgeuk.com
/
https://www.facebook.com/boygeorgeofficial
Cover Picture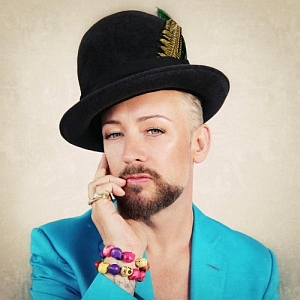 Rating

Music: 3
Sound: 9
Total: 6 / 10
See also (all categories):