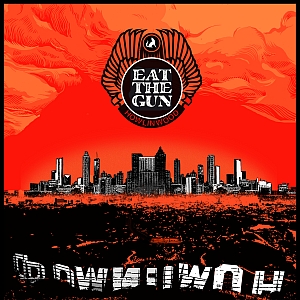 Artist: Eat the Gun
Title: Howlinwood
Genre: Hard Rock / Alternative
Release Date: 28th August 2015
Label: SPV/Steamhammer
Album Review

The new and already 5th studio album of German rock formation EAT THE GUN, entitled 'Howlinwood', promises listeners a great portion of high quality hard rock music, which may sometimes sound even a bit old school but, of course made with modern features, and in general it produces a fairly good impression. Eleven powerful compositions will please almost any fan of the style. I can't say that the band creates something really unique or original – the musicians work within the limits of the style they chose, but they do it quite well.
The title track, which also opens the album, simply captivates with its driving energy, not too complicated but still nice guitars and pleasant vocals. The next piece doesn't show any big difference and it feels like 'Falling' just continues the idea of the first song, but makes it sound more dynamic with catchy riffs and refrains. 'How Does It Feel' starts rather peacefully and slowly, but the lack of energy at first is fully compensated with the chorus and the inspiring lyrics. 'Blood on Your Hands' is not too long, but as usual strong and moderately heavy, yet it can be said about almost any song from the album. Mesmerizing 'Old Friend' despite its thought-provoking lyrics doesn't allow listeners to think too much, following by the crazy speed of 'Take It Away'.
'Electric Life' made in cooperation with John Konesky first of all pleases with the guitar solo, while 'Unforgotten' demonstrates a good example of alternative rock in general. The other two compositions are simply good as their predecessors, and there's nothing to add. Actually sometimes the album sounds slightly monotonous, but there's a reason to listen the whole thing till the very end, because the final acoustic track is worth it. 'Anger' is written in the best traditions of the genre and able to impress even the most sophisticated listeners. So EAT THE GUN did a great job and their new record definitely deserves to be checked out at least once.
Tracklist

01. Howlinwood – 3:40
02. Falling – 3:22
03. How Does It Feel – 3:57
04. Blood on Your Hands – 2:44
05. Old Friend – 3:30
06. Take It Away – 4:07
07. Electric Life (feat. John Konesky) – 3:03
08. Unforgotten – 3:45
09. Trouble Magnetic – 3:18
10. The Drudge – 3:30
11. Anger – 2:56
Line-up

Hendrik Wippermann – Vocals, Guitar
Gereon "Gerry" Homann – Drums
Peter Bergmüller – Bass
Website

http://www.eatthegun.com
/
https://www.facebook.com/eatthegun.official
Cover Picture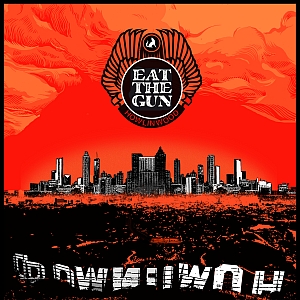 Rating

Music: 9
Sound: 8
Total: 8.5 / 10
See also (all categories):