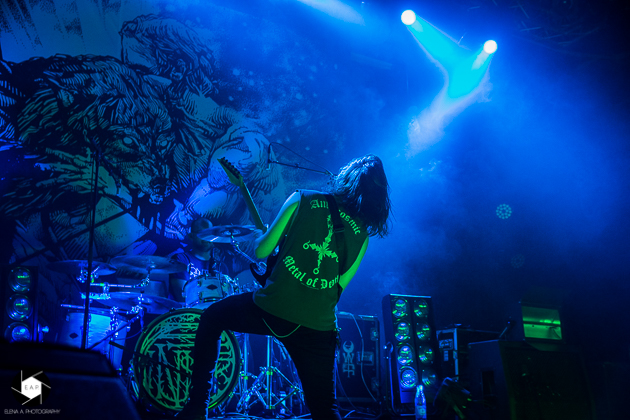 Kulturfabrik, Esch sur Alzette, Luxembourg
26th September 2017
Der Weg einer Freiheit, Regarde les hommes tomber

After a noticeable gig at the last edition of the Bang your Head Festival, DER WEG EINER FREIHEIT came back to the Kulturfabrik and no one was standing there without having fun. Supporting the tour is REGARDE LES HOMMES TOMBER, which is a French black metal band. Unfortunately, the second support band, INTER ARMA, had to cancel their European run due to some major passport issues.
Regarde les hommes tomber

Already at the entrance of the Kulturfabrik, a balsamic and sweet scent was noticeable. When you looked to the stage you saw candles and incense sticks, which made the Kulturfabrik already very atmospheric. And so was the intro of REGARDE LES HOMMES TOMBER: atmospheric and dark. For the opening act, there were already a lot of people which is striking. And also notable is that the people were active from the start of the show. The songs of the band were also well divided. There were nice blast beat and head-bang parts where the dark atmosphere is still maintained. They animated the early coming people and warmed them up very well for the headliner DER WEG EINER FREIHEIT.
Setlist

01. L'Exil
02. A Sheep Among the Wolves
03. Ov Flames, Flesh and Sins
04. …to Take Us
05. Embrace the Flames
06. Thou Shall Lie Down
07. The Incandescent March
Rating

Music: 8
Performance: 9
Sound: 8
Light: 6
Total: 7.8 / 10
Der Weg einer Freiheit

After a quick set change, DER WEG EINER FREIHEIT came up to the stage while the crowd is already cheering to them. Unlike the opening act, the intro wasn't so atmospheric and quite long. However, they have immediately clarified their position and made the Kulturfabrik dangle. Their songs were melancholic and gloomy but there was a great mixture of epic blast beats and heavy, dark parts.
Setlist

01. Einkehr
02. Der stille Fluss
03. Repulsion
04. Skepsis, Pt. I
05. Skepsis, Pt. II
06. Ewigkeit
07. Zeichen
08. Aufbruch
---
09. Lichtmensch
Rating

Music: 8
Performance: 7
Sound: 8
Light: 9
Total: 8 / 10
In general, it was an atmospheric and dark start into the week. REGARDE LES HOMMES TOMBER was a convenient opening act for the night and DER WEG EINER FREIHEIT completed this very melancholy but also satisfying evening.
More on
Der Weg einer Freiheit
,
Regarde les hommes tomber
,
Inter Arma
All pictures by Elena Arens (https://www.facebook.com/ElenaA.Photography/)
See also (all categories):