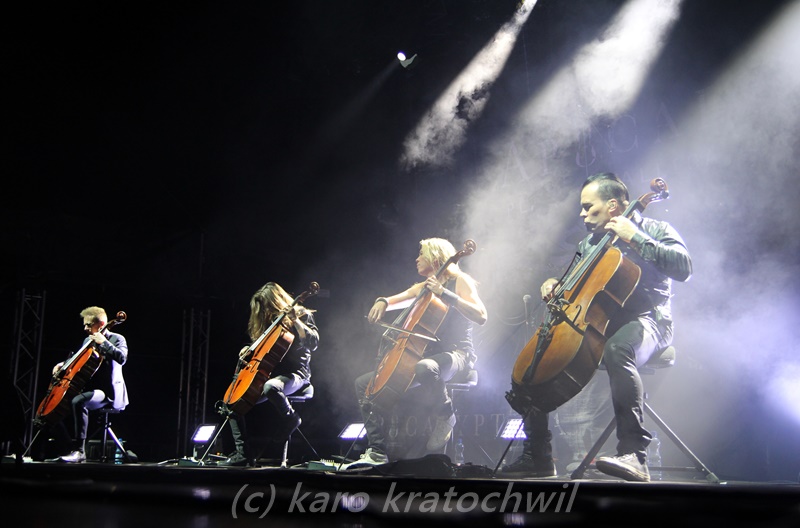 Centrum Historii Zajezdnia, Wroclaw, Poland
31st August 2018
wRock for Freedom with Apocalyptica, Illusion, Luxtorpeda

wRock for Freedom 2018 was, by all means, a night of strong, uncompromising, male voices in music. Voices that vary in attitudes, opinions, approaches towards life, experience and emotions, but which share a bond of outright message, a fair dialogue with audience and attempt to explain thoughts in a form of extremely passionate, impressive and devouring musical journey. I heard a lot of beautiful sounds, but also wise words that night and I value it a lot.
APOCALYPTICA, ILLUSION and LUXTORPEDA presented their very best pieces and they evoked a whole range of reactions: starting from euphoria, adrenaline rush and pure power flash to high appreciation of sonic mastery and even pensiveness and tears. The whole event was prepared with fine precision, but it still left a lot of space typical for open-air events - people could just listen to the music in peace but also dance, run wild and jump - especially the latter was willingly exercised by the stage and in the numerous moshpits that formed spontaneously during the shows. I believe everyone was satisfied with the options given.
http://wrockfest.pl
Luxtorpeda

LUXTORPEDA is a Polish band, founded in 2010 by Robert Friedrich. The music of the band could roughly be described as Hard Rock, Alternative Rock or even Punk. So far they have released four studio albums including the latest of 2016 called 'Mywaswynas'.
http://luxtorpeda.eu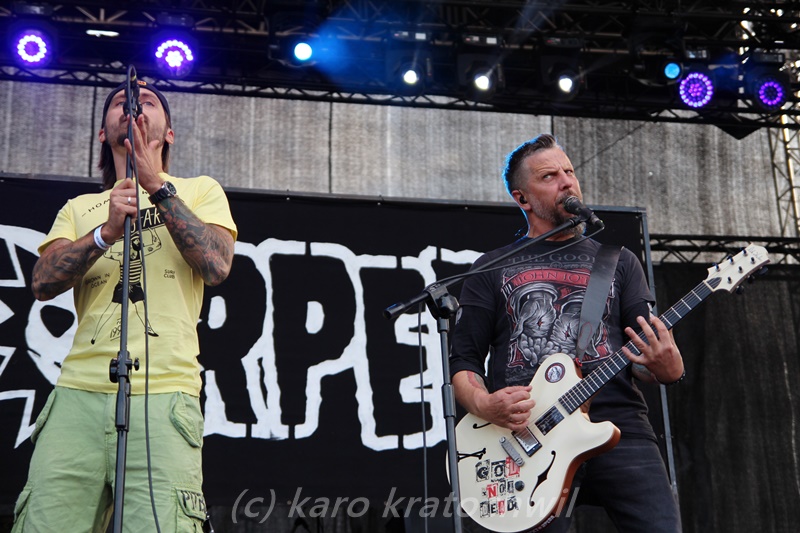 Music & Performance

The band's performance was fast, strong, guitar music paired with chanting, expressive vocal, speeded up by drum beats and enlivened by means of dialogues with the audience that was led continuously in between particular songs by Robert "Litza" Friedrich. Some pieces smashed me with their power, they encouraged to run wild, while the others touched me, made me think. The band is not afraid of difficult topics - relationships, family, violence, aggression, loss - also of a child - these are highly personal areas and thus extremely hard to bear, but by their honesty they get straight to one's heart right on the spot. Currently we are all flooded by streams of smooth, round words that carry no or little meaning, so once you get a message that may become a real inspiration that may give comfort or at least name or pacify some of personal fears, doubts - it's a real rarity.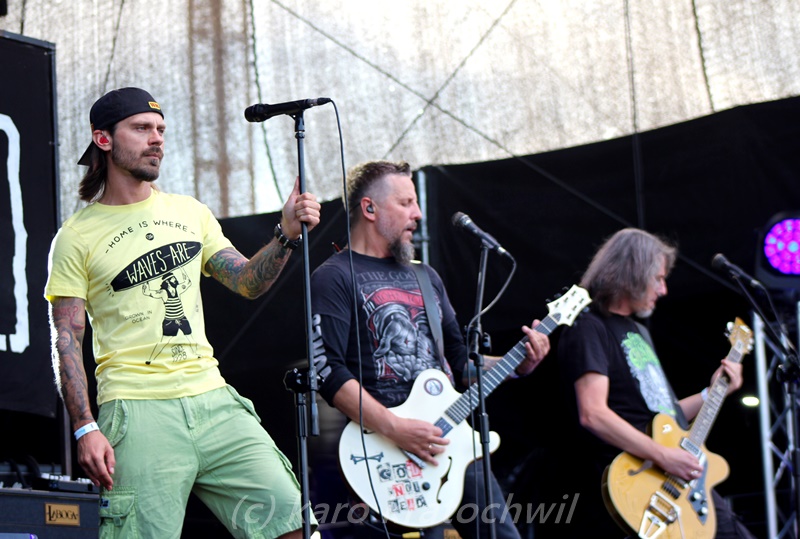 "My son, learn to live without answers" - that's a fragment of a song that got into my head the most, perhaps because I always search for answers, that's what the whole world seems to be up to. Not knowing is hard. So is transforming challenging emotions into words and setting them in a musical frame; is requires great mastery and, by all means, LUXTORPEDA plays in extra-class of this area.
Setlist

01. Mambałaga
02. Za wolność
03. Pusta studnia
04. Nieobecny Nieznajomy
05. Wilki dwa
06. Persona non grata
07. Autystyczny
08. Hymn
09. Trafiony zatopiony
10. 3000 świń
11. W ciemności
12. Jak husaria
13. 44 dni
14. Iglo
15. Dziury po ospie
16. Imago
Rating
Music: 10
Performance: 9
Sound: 9
Light: 9
Total: 9.3 / 10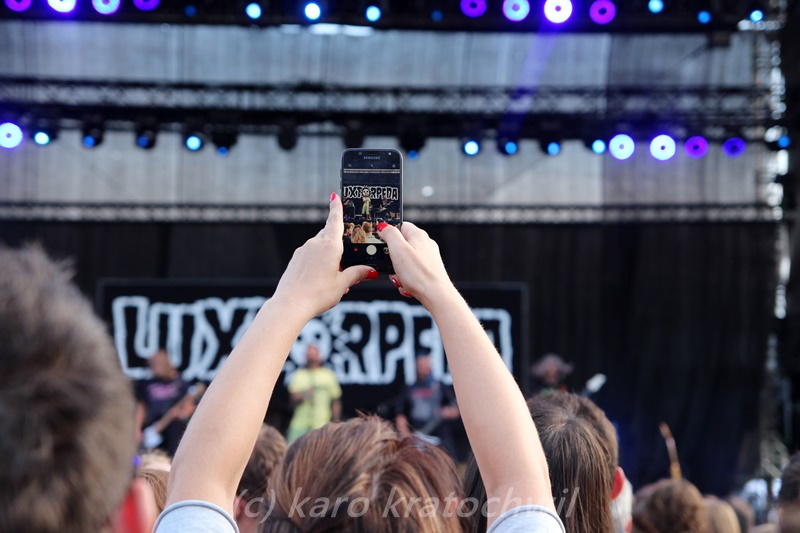 Illusion

ILLUSION and their frontman Tomasz Lipncki continued a journey through hard emotional soundscapes, but unlike Robert Friedrich, who represents a calm, accepting male wisdom, they take no prisoners, show no mercy towards sensitive listeners and they crush naiveté and hypocrisy in a hard, merciless manner. Their way is distanced, cold and heavy. Music and lyrics are full of passion but above all pain - hurting, deep and inexpressible.
https://illusion.pl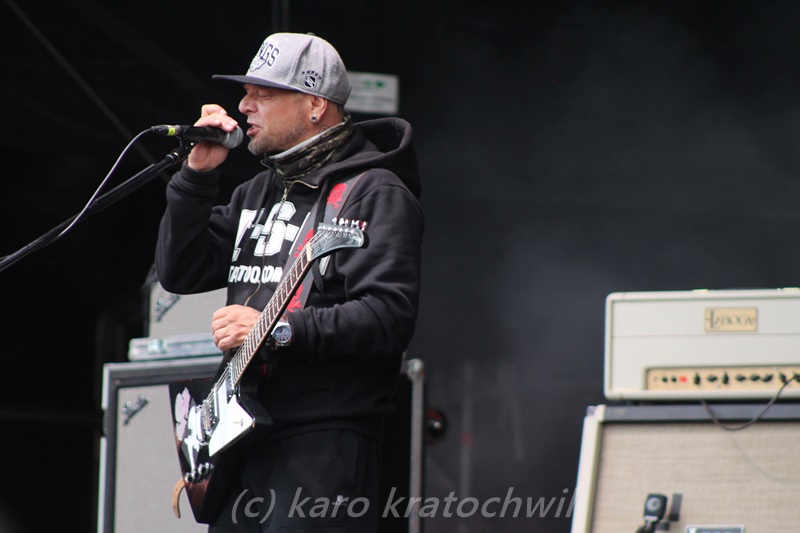 Music & Performance

The band has been active on and off, since 1992 and it's described as Polish living legend of Hard Rock, Grunge. Their concert presented the whole spectrum of sounds - heavy load of guitars, hard, screaming, harsh vocal, dark, grave, vibrating machine tones rolling over sensitivity and delicacy like a sonic tank leaving no illusions the world is a beautiful, safe place. "And what if you lost a child of yours. A flash, a nightmare. And what if you threw up your pain in blood. A heart falls into parts. You will never find the guilty, no" - that's a rough translation of a part of a song 'Kto jest winien?' ('Who's to blame?').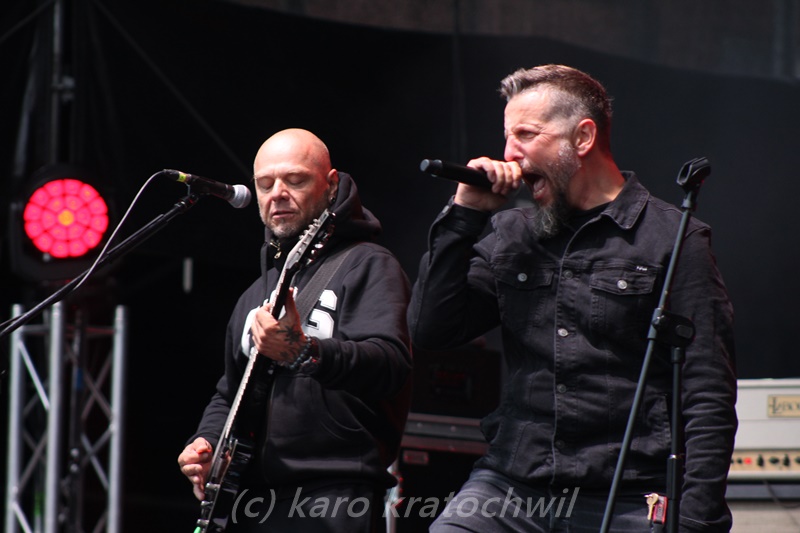 It's difficult, demanding music and the textual part only enhances the effect of facing a message that burdens the listener emotionally to the core. It's like an outburst of aggression, anger, disagreement, rebel, despair - which is as moving as beautiful. Impressive performance.
Setlist

01. Kto jest winien?
02. Vendetta
03. Solą w oku
04. Okruchy udręki
05. To co ma nadejść
06. Cierń
07. Niby
08. Śladem krwi (with Litza)
09. Tchórz
10. B.T.S.
11. Skoczny
12. Bracie
---
13. Wojtek
14. Nóż
15. Zanurzam się
Rating

Music: 9
Performance: 10
Sound: 9
Light: 10
Total: 9.5 / 10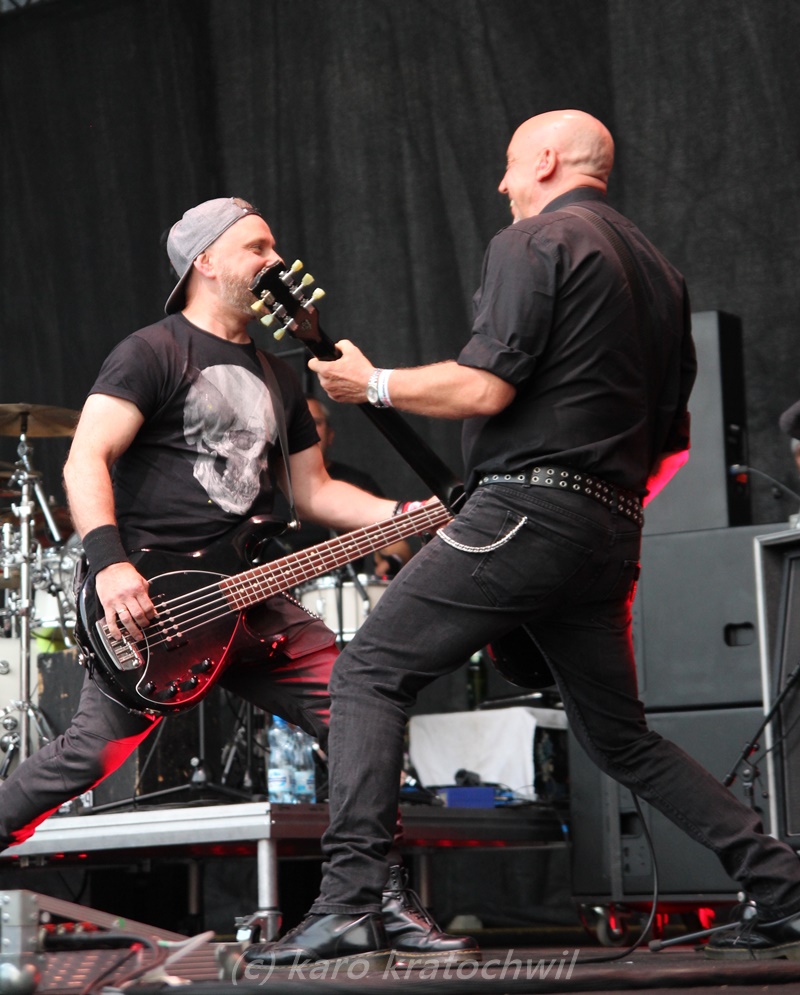 Apocalyptica

I believe APOCALYPTICA need no lengthy introductions - the masters in METALLICA hits interpretation, skilled also in cello-ing FAITH NO MORE, SEPULTURA or PANTERA - the band that each and every time receive a warm welcome and made me love Finland even more madly than I already do. They have released eight albums so far, including the most acclaimed one 'Plays Metallica By Four Cellos'. In 2016, on celebrating the 20th anniversary of their artistic journey, the band visited Wroclaw to play in National Music Forum. They gave unforgettable concert in the noble walls on the city music temple and in 2018 they got back to the city to smash the audience once again - open-air this time.
https://www.apocalyptica.com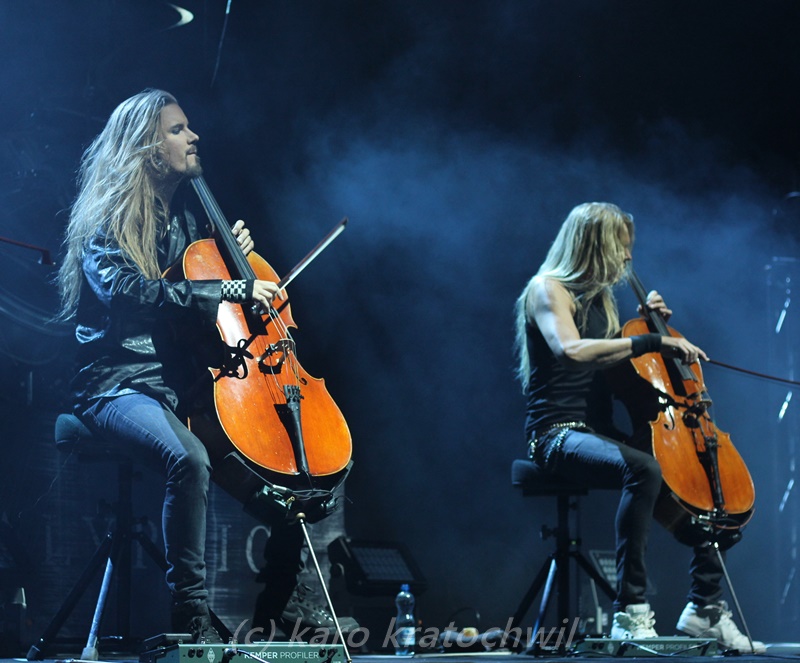 Music & Performance

The concert was a true symphony of incredible sounds, lights, magical atmosphere and fantastic presence of musicians who established a marvellous contact with the audience. The first part of the show was mostly into the old hits of METALLICA. It was calmer; Eicca, Perrtu, Paavo and Mikko, wearing classic, elegant version of black, played hidden in the flood of silver / navy blue lights and dense smoke. The atmosphere they created was almost theatrical, full of passion, quietly pulsating and reverberating in every cell of my body. The pieces such as 'The Unforgiven' or 'Nothing Else Matters' every time give me thrills, hold my heart in a firm grip and allow no movement - especially when presented by such rich and moving instrument as cello. Stand still and just listen girl.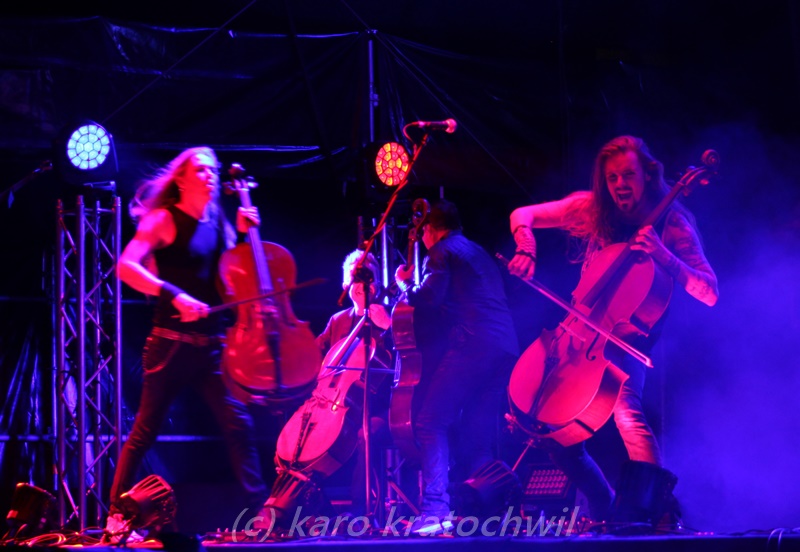 I have always thought the sound of cellos (and for that matter - violins) is the sound the sound human soul would make if given opportunity of sonic expression - with all the tonal wiggles, caprices, depth and darkness. It's magnificent, especially when in hands of such virtuosi as APOCALYPTICA who reached mastery in operating the instruments. Rich, gloomy and heartfelt sound, deep, pulsating tone and exceptional tonal range all stand for the reasons why listening to their music is an experience compared to nothing else. Especially while it's live. The second part of the show was a pure power, madness, wild antics on stage; instrument duels, contests such as who will play the cello in the coolest way (like, e.g. on the back or head). It was a real metal rough-house. The question I have always wanted to ask, e.g. to Perttu Kivilaakso is - how many cello bows does he ruin per concert? I definitely saw one with strings flying in pieces this time.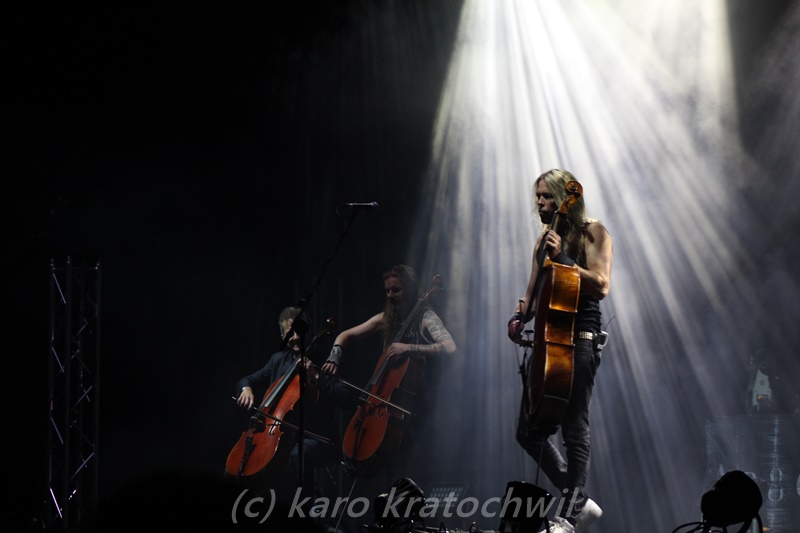 Energy, joy and scenic mastery presented by the band gave me the sense of participating in something really beautiful, exceptional - a show, a spectacle, a performance, an energy exchange. Watching such talent, class and charisma was a privilege. On leaving the concert I had a feeling of receiving a great gift that will stay with me for long. Till the next show at least. Thank you.
Setlist

01. Enter Sandman
02. Master of Puppets
03. Sad but True
04. The Unforgiven
05. Wherever I May Roam
06. Creeping Death
07. Fade to Black
08. For Whom the Bell Tolls
09. Fight Fire With Fire
10. Orion
11. Escape
12. Battery
13. Seek & Destroy
---
14. Nothing Else Matters
15. One
Rating

Music: 10
Performance: 10
Sound: 9
Light: 9
Total: 9.5 / 10
To recap - every band made their individual musical statement with class and professionalism. The energy that was produced in the venue that night could easily lit the sky and shame the stars. Great event!
All pictures by Karo Kratochwil