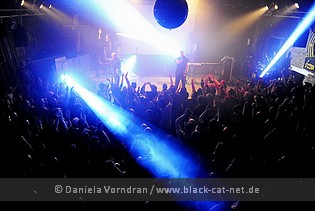 Kulttempel, Oberhausen, Germany
6th December 2014
Front 242 & Steril

While there is still no new material in sight, and probably might never come, Belgian EBM pioneers FRONT 242 are on a club tour again in Europe to present their overhauled classics. But as FRONT 242 are always a quite exciting live act and rather unfrequently play club shows in Germany, there was reason enough not going to miss the event.
Steril

In Oberhausen we got one of the rare STERIL gigs as the local support act, though Mähne Meenen (vocals), Axel Tasler (guitars, programming) and Jan Wilking (keyboards, programming) are not exactly locals as they come from the city of Oldenburg in the very north of Germany, and not the Ruhr area. Anyway, the addition of STERIL was quite a treat for all old school EBM fans and their turned out to be more than just a warm-up act, it rather felt like a headline gig.
http://www.sterilmusic.com
/
http://www.facebook.com/sterilmusic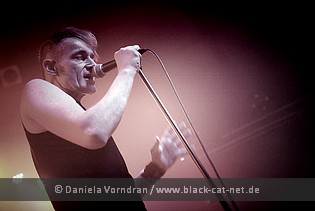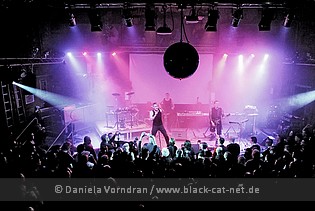 Music & Performance
Presenting material from their new album 'Misanthrop' as well as selected vintage songs as 'Egoist' or 'Crash Your Head', STERIL played to the full house an energetic gig which might have been one of their best ever. The response from the crowd was really great, and the new songs from the (highly recommended) 'Misanthrop' album, which marks a return to the darker and edgier sound for STERIL, really blended perfectly with the classics. Highlight of course was 'No Remission', their first club hit from the 1993 debut album 'Transmission Pervous', which was welcomed with loud screams as soon as the intro started. Boy, I'm sure there are quite a few bands that would be happy enough to have such a gig and crowd as their headline show!
Setlist

01. Glas
02. Strom
03. Overgod
04. Lies
05. Crash your Head
06. Tanzt
07. Elektroliebe
08. No Remission
09. Egoist
Rating

Music: 8
Performance: 8
Sound: 7
Light: 7
Total: 7.5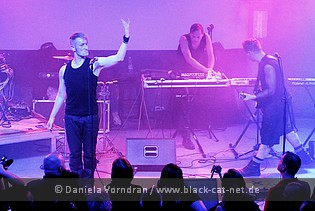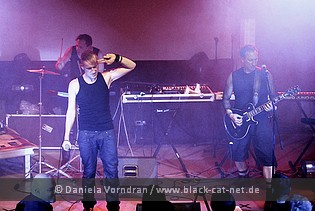 Front 242

While FRONT 242 frequently play the many open air festivals in Germany, club shows used to be rather rare here. Thankfully this has changed a bit recently, and after a few shows earlier this year the Belgian EBM pioneers returned for a number of shows to Germany. STERIL already got the crowd going and there was some sense of expectation and excitement in the air in the minutes before Jean-Luc DeMeyer, Patrick Codenys, Richard Jonckheere, Daniel Bressanutti and live member Tim Kroker (drums) hit the stage. The Kulttempel got even more packed, and to be honest it was way too crowded. The lucky ones who made it the front surely didn't mind but in the back you could hardly see and hear the show.
http://www.front242.com
/
https://www.facebook.com/Front.242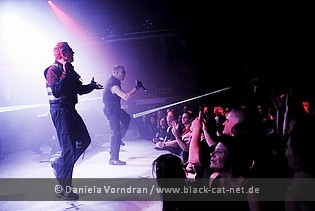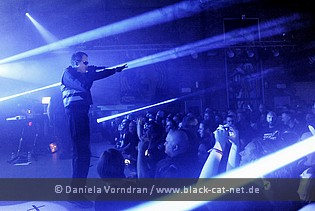 Music & Performance
FRONT 242 kicked off with the re-vitalized 'Moldavia', a track from their 'Tyranny for You' album from 1991, followed by 'Body To Body' from the early 1980s. One could hardly expect to hear new songs at this concert, it's eleven years since FRONT 242's last studio album 'Pulse' and it seems that they don't even bother to produce and release new music. But at least they constantly re-work their classic songs to keep things fresh, and with their performance they prove that they still kick ass – especially when they play small clubs and not huge festival stages. Richard Jonckheere commands the stage while main vocalist Jean-Luc DeMeyer prefers to stay cool and reserved. Two opposites but perfectly matching parts of the machine that is FRONT 242! The energy on stage was just incredible, even though the sound volume left a bit to desire – there were even "Louder! Louder!" chants between the first few songs. Well, EBM fans like it loud anyway! A few songs from 'Pulse' followed and the sound engineer finally found the right volume controller for the classics 'Take One' and 'Headhunter', arguably FRONT 242's biggest hit in their career and which turned things upside down halfway through the set.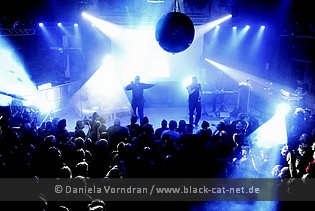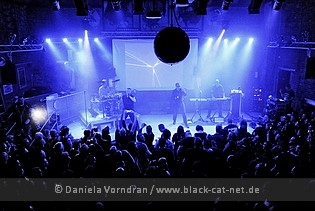 Although the subsequent 'Triple X Girlfriend' felt a bit like slamming on the brakes, musically, there was nothing to stop the fans' frenzy anymore. Whether it was the new version of 'U-Men', with lots of tempo changes, or the brutally hypnotic 'Commando Mix' or the heavy-sounding 'Religion', there simply was no holding back. It's probably a weird thing when a few hundred people welcome a sampled speech by the political dubious figure Louis Farrakhan with a loud and unanimous outcry just to shout out every word of the rest of that speech but that's exactly what you get when a bunch of EBM maniacs go berserk when FRONT 242 plays 'Funkhadafi'! Just like they shout out that infamous line "No sex until marriage!" from 'Welcome To Paradise' in unison. The band quite aptly re-named the radically reworked version of this song 'Welcome To hell' on their setlist sheet and this welcome was also the goodbye and closer of the main set. I'm sure nobody in the sweaty crowd would have objected to get 16 more songs from FRONT 242 but the Belgians returned just for a short two-song encore.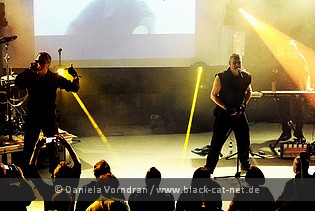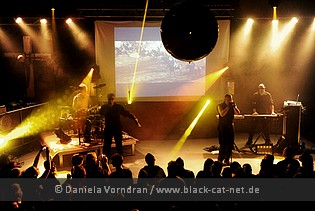 At least it featured a brand new version of 'Until Death', a nice surprise with lots of sampled guitars but without run the risk of sounding MINISTRY-like. FRONT 242's classic goodbye song 'Punish Your Machine' closed the show with Richard Jonckheere taking over the lead vocal duties and losing it completely, and the fans' clear hunger for more had to be satisfied by the after-show DJs. Minor complaints regarding sound in the back and the club being way to packed aside, this was one hell of a gig which also the band members visibly enjoyed.
Setlist
01. Moldavia
02. Body to Body
03. No Shuffle
04. Rain
05. Together
06. Take One
07. Headhunter
08. Triple X Girlfriend
09. Quite Unusual
10. U-Men
11. Melt
12. Commando Mix
13. Religion
14. Im Rhythmus bleiben
15. Funkadafi
16. Welcome to Paradise
---
17. Until Death (Us Do Part)
18. Punish Your Machine
Rating

Music: 9
Performance: 9
Sound: 6
Light: 9
Total: 8.5 / 10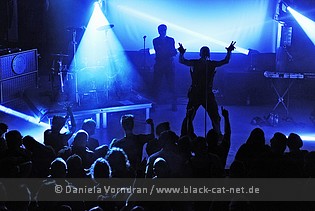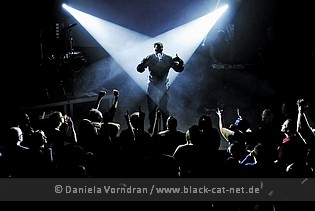 All pictures by Daniela Vorndran (
http://www.vorndranphotography.com
/
http://www.facebook.com/blackcatnet
)