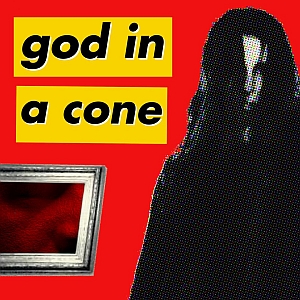 Artist: God in a Cone
Title: Agrypnia
Genre: "Experimental sounds without musical boundaries"
Release Date: 14th September 2016
Label: Independent
Album Review

"Agrypnia" is a medical term for the "persistent loss of sleep," "insomnia," or "sleeplessness" and also the title of Nikos Marinos' debut album. The exceptional vocalist from Athens is singing in the Rock/ Alternative / Grunge band MADLEAF that has released their new full length album 'House of Lust' this January, the Alternative / Down-tempo / Rock band IOLA11, and the Alternative/ Gothic / Black Metal / Post Rock/ Industrial band SLITHERUM. This September, Nikos presents his brand new solo project: Under the name of GOD IN A CONE he delivers eight stand out tracks on 'Agrypnia'! This project is all about "experimental sounds without musical boundaries!" Dimitri Delis (Studio 222) is responsible for a masterful production of Nikos' well-crafted, experimental songs that cannot and shouldn't be put into one particular musical genre
. "I don't follow musical rules for composition. I am a free spirit of experimentation without a specific mission or vision to create something fruitful for the audience,"
the musician tells us. If you're a true music lover you should be interested in this artist, who's eager to try out new things, and check out his outstanding and genre-bending debut solo album!
'Agrypnia' is a moody title track and serves perfectly as an intro to the album. It all begins with a mid-tempo drum rhythm and then the haunting tune grows adding one electronic layer after the other until also crushing guitars set it. The calm and dark vocals are hypnotizing and Nikos' Death Metal screams of the album's title in the chorus are gripping and build up the tension. Finally, 'Agrypnia' slowly fades away leading to the more upbeat 'Beddrug', an Electro Rock tune with beautiful strings in the background which conjures up some grungy 90s vibes and might make you sense some SOUNDGARDEN or PEARL JAM.
The atmospheric 'Cold Feeder' begins as a slow, calm, and minimalist electro tune that puts you in the most wonderful trance. Amazingly clear, soft, and beautiful vocals lead smoothly into a chorus about freedom. There are also distorted, harsh shouts, and a great guitar solo in the background before the song fades away. If you were drifting away to dreamland during the mesmerizing 'Cold Feeder', the powerful guitar chords and killer Metal riff of the aggressive 'Dog Dust' will bring you immediately back down to earth. What's more, the dark and heavy 'Dog Dust' with its roaring screams, thundering drums, and prominent guitars will make you raise your fist and bang your head. Hell, yeah!
Some static sounds and doomy humming introduce 'DWN', another electro tune which interestingly presents some harsh sprechgesang in the verse. Fittingly, there's a "gangsta" chorus, but fear not, this doesn't make 'DWN' a stereotypical Hip Hop/ Rap song at all. Nikos manages to transcend musical boundaries and his spoken vocals collide with Death Metal screams making track No. five yet one more unique piece on this multi-faceted record. Thumbs up for some more static sounds towards the end – I bet I'm not the only one who finds frames quite fulfilling. And then, GOD IN A CONE surprise us with '30 Days', which is probably my personal favourite on the album, if I had to pick just one. Some Rock'n'Roll drums kick things off and Nikos shares with us a high class Goth Rock song featuring staccato strings during the chorus. Also the vocals sound deep and hallow as they should. The melodic '30 Days' is gloomy and yet danceable. Great Post Punk fun!
With the following 'God in a Cone' there're some more atmospheric electro sounds featuring spoken vocals in the verse - "Yo!" - next to clear singing of a beautiful chorus. And with the six-and-a-half-minute-long 'Death Laments', the longest track on the album, GOD IN A CONE conclude 'Agrypnia'. It actually appears like two songs because of the 30 seconds of silence which split it into two parts. In the first part, 'Death Laments' sounds like a doomy Progressive Metal piece spiced up with some folk elements featuring some Hammond organ tunes. In addition to the English lyrics, the vocalist also sings in Greek which contributes greatly to the mystic and folky feel of 'Death Laments' - a very interesting tune that has a gripping effect. The hidden track in the second part is more noisy presenting great bass lines and extremely distorted, harsh screams – GOD IN A CONE put the petal to the metal on the final minutes of their debut.
'Agrypnia' - what a ride! GOD IN A CONE's impressive debut is full of eclectic sounds and convinces with superb, diverse vocals. Nick sings and speaks and screams and growls in native-like English creating versatile moods with every single song. The way GOD IN A CONE combines different musical styles and successfully creates a coherent and unique whole makes this project one of a kind.
"All music styles are expressing something unique and as a result I am open to new musical challenges! I love all the music artists/bands, each one speaks to my soul in a different way,"
Nick reveals. Without any doubt, the incredible 'Agrypnia' is an album worth checking out. Once you do, chances are high that you'll get addicted to this music becoming a "Conehead" who can't wait to hear more. 'Agrypnia' will make you expect great things from this truly promising act. Congratulations on this debut, GOD IN A CONE!
The album is limited to 80 CDs and if you want to get hold of a copy just contact the artist via
This email address is being protected from spambots. You need JavaScript enabled to view it.
.
Tracklist

01. Agrypnia
02. Beddrug
03. Cold Feeder
04. Dog Dust
05. DWN
06. 30 Days
07. God in a Cone
08. Death Laments
Line-up

Nikos Marinos – music & vocals
Website

https://www.facebook.com/godinacone
Cover Picture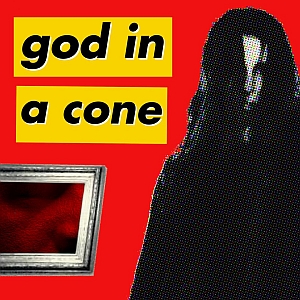 Rating

Music: 9
Sound: 9
Total: 9 / 10
See also (all categories):