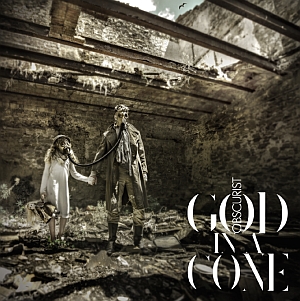 Artist: God in a Cone
Title: Obscurist
Genre: "Experimental sounds without musical boundaries"
Release Date: 16th February 2017
Label: Independent
Album Review

Unbelievable, but true: Exceptional act GOD IN A CONE from Greece is about to present its 3rd record! Impressive, since it's been only five months that Nikos Marinos (MADLEAF, IOALLA11, SLITHERUM), creative mastermind behind this experimental musical project, unleashed his debut album '
Agrypnia
'. It enthralled many critics and fans alike making them expect great things from such a promising and unique musician. And great things were to come. So it's no wonder that with the follow-up release titled 'The Sex is Fear' the "Conehead tribe" kept on growing. And now, Nick is spoiling us with seven new, interesting, and diverse songs to be released mid-February:
"I am more than happy to announce that the 3rd album of GOD IN A CONE is a fact! If you love something you don't need to wait for specific timelines, you have to believe in yourself and express your passion with a clear genuine vision! Coneheads, let's salute 'Obscurist'!"
To those listeners who already know and enjoy Mr. Marinos' music, 'Obscurist' proves once again what they've already come to know and appreciate: GOD IN CONE stands for original, genre-bending tunes that spread soothing next to quite intense moods and are enriched by a truly exceptional voice and diverse singing styles ranging from whispering, speaking and singing to screaming and growling. The album title 'Obscurist'
"derives from the passion of blending incompatible things together and create something functional from this merge,"
Nick explains. For the amazing production, mixing, and mastering of the third record credits go as usual to Dimitris Delis from Studio 222 who also played guitar. Mylène Blacksshark (blacksshark.com) created the sepia-toned, post-apocalyptic-looking artwork which displays a man and girl walking hand in hand through a ruined and desolate place wearing gas masks. Zombies might just be around the corner...
The opener 'Run Zombie' kicks off with a beating drum machine, Sci-Fi sounding synths join in later, and then some electric guitar is also added to the background. A great intro getting things going. Fittingly, there're fast-paced and repeating vocals, "Run! Zombie! Run, run! / Zombie! Run! Run!", and also some harshly sang words in Greek. The about eight-minute-long 'Run Zombie' is the longest track on the album and in the middle of track there's an interesting break and more melodic vocals in English set in. It all ends with faster and more aggressive shouts in Greek. Sadly, I don't understand the words in Nick's native tongue, but I'm loving the interplay between both languages and the changes in tempo and between softness and harshness.
The beats of the electro smasher 'Dead at the Disco Ball' immediately make you move. An upbeat song despite its dark vocals make the second track a floor filling hymn. Just wonderful the way it develops as towards the ends the beats are replaced with a calmer section of piano tunes and then a crescendo featuring louder guitars. Bravo! Vocal-wise, with its harsher sprechgesang, the beginning of 'Sell a Lie' goes into the direction of 'DWN' that we know from the first album. Throughout the song, the diverse vocal lines are really interesting and stand out as the music is rather minimalistic.
The following two tracks are less electronic as it gets more acoustic. The melancholic ballad 'Mitheumata' (transl. "Myth/Fiction") starts with some folky acoustic guitar that spread some JOHNNY CASH vibes and nostalgic synths. Nick convinces with beautifully sang verses and great polyphonic vocals that rise up to screams. The vocalist is his own choir! The folk tune gains some surprising speed towards the end as Giannis Ranis adds some "Country" drums. Clearly a highlight! 'The Sun is always Blue' is only about two minutes long and conjures up an image of a dude and his acoustic guitar in a dimly lit bar and an audience hanging on the vocalist's every word not daring to take a sip of their drink. This one is captivating, blue, and intense ending dramatically.
'Ill for Metal', another longish song on 'Obscurist' (about 7 minutes), is a mid-tempo track that successfully interweaves electronica with guitars. After a change in tempo towards the end of the song, organ chords and whispered and harsher vocals take over and, finally, a rocking guitar solo leads into the outro. "Yeah!" Finally, clear piano notes introduce the last song, the pensive 'Old Watcher'. More strumming of the guitar make it sound like a grungy acoustic piece. Wonderful how GOD IN A CONE seem to end the album on a calmer note, when after a short pause, 'Old Watcher' gets more epic and dramatic and the last sound is an unexpected, but perfectly fitting blare of a trumpet. One cannot be disappointed by the song order on 'Obscurist' at all; 'Old Watcher' is just made to end it.
On the whole, Nick's third opus is GOD IN CONE through and through. It's "only" 35 minutes long, but manages easily to satisfy all curious music lovers. The new compositions sound experimental combining multiple musical genres in a unique way and appear fresh but at the same time have a nostalgic feel. Compared to the debut album, there are less Death Metal influences and instead of Goth Rock song, that stood out on 'Agrypnia', we get some amazing acoustic tunes. More lines in Greek and the breaks which lead to well-arranged outros full of atmosphere and intensity also make 'Obscurist' a real sonic treat. Coneheads, 'Obscurist' is coming! The official release date is fast approaching: February 16, 2017, is the day, so hurry up and get one of 80 copies making your order via
This email address is being protected from spambots. You need JavaScript enabled to view it.
or by contacting GOD IN A CONE on Facebook!
Tracklist

01. Run Zombie
02. Dead at the Disco Ball
03. Sell a Lie
04. Mitheumata
05. The Sun is always Blue
06. Ill for Metal
07. Old Watcher
Line-up

Nikos Marinos – music, keys, vocals, drum machine, programming, controlling
Dimitris Delis – guitars, production, mixing, mastering
Giannis Ranis – drums on 'Mitheumata'
Website

https://www.facebook.com/godinacone
Cover Picture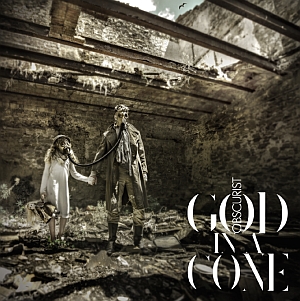 Rating

Music: 9
Sound: 9
Total: 9 / 10
See also (all categories):